A Very Five-O Christmas
(from left) Kala Alexander, Teilor Grubbs and Dennis Chun will be home for the holidays - because they're among the Hawaii residents who have scored recurring roles on Hawaii Five-0. To fill these stockings at The Modern Honolulu, Santa will have to find them by their Five-0 names

Wednesday - December 21, 2011
By
.(JavaScript must be enabled to view this email address)
E-mail this story | Print this page | Archive | RSS
|
Del.icio.us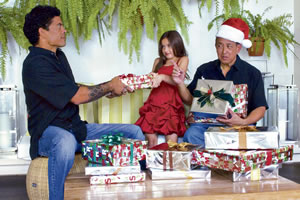 Kala Alexander, Teilor Grubbs and Dennis Chun On location at The Modern Honolulu. Men's shirts from Tori Richard Hair and makeup by Kecia Littman - keciabella.com
With the Five-0 crew taking a holiday break, three local actors who have recurring roles on the hit CBS show talk about what it's like to be part of the cast and share their Christmas wishes
Lights, camera, action! Around the world, Hawaii Five-O fans tune in each week to watch McGarrett, Danno, Chin and Kono catch the bad guys. But for local viewers it can be just as exciting to see all the other faces on the show as there's a good chance you might spot an uncle, aunty, cousin, classmate, neighbor, friend ... you get the idea.
According to Hawaii casting director Rachel Sutton, for each episode the show casts between 200 and 400 extras, and half to two-thirds are locals. Island celebrities who have made appearances include Kim Gennaula, Diane Ako, Augie T, Egan Inoue, BJ Penn, Liana Green Wright, former Miss Hawaii USA Renee Nobriga, former Miss Hawaii Teen USA Serena Karnagy with boyfriend model Hudson Taylor, former news anchor Linda Jameson ... the list goes on and on.
Then there are the envied ones who have recurring roles on the show, including Teilor Grubbs, Dennis Chun and Kala Alexander. Just before the cast and crew went on break for the holidays, MidWeek caught up with our local talents to uncover their lives on and off the camera.
When Grubbs, 10, is not playing Danno's adorable little girl Grace on TV, she's a cheerful fifth-grader at Hahaione Elementary School in Hawaii Kai. She started modeling when she was only 6, appearing in ads for Pottery Barn, Hawaiian Airlines and Walmart. Then her agency, Premier Models & Talent, called about an audition for Hawaii Five-O, she tried out and before she knew it, she was busy balancing filming, schoolwork and cheerleading (at Cheer808). In season one, she appeared in six episodes, and this season she's scheduled for two.
"My life has changed a little bit," says Grubbs, whose parents are Erik and Kela Grubbs. "When I'm out sometimes people ask me if I'm the girl from Hawaii Five-O, and then they're like cool and then they ask me for my autograph. The first time that they asked me (a mom and her daughter at Kahala Mall), I didn't know how to even do my signature."
As for what she's been doing with her paychecks: "My parents say that I'm saving it for college."
This year, Christmas will be spent at Grandma and Grandpa's (Linda and John Puu) house in Hawaii Kai. Sometimes holidays are spent in Virginia, where "Gammie" and Grandpa Grubbs live.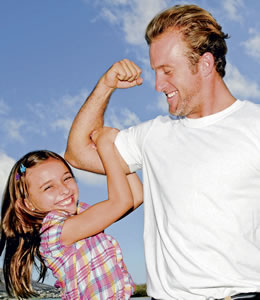 Grubbs as Grace Williams on Hawaii Five-O with her TV dad Danno played by Scott Caan Neil Jacobs/ CBS photo
"One year at Gammie's house it snowed," she recalls. "It was on Christmas, and me and my dad were building a snowman, and then my mom walked outside and we threw snowballs at her."
Grubbs, who has a little sister Heiden and another sibling on the way, admits that presents are her favorite part of Christmas, and if she gets her wish, Santa will be leaving a new digital camera under the tree. She also likes clothes and lists Adore and Up & Riding at Kahala Mall as her favorite stores. She recently added tennis to her hobbies, is involved with Diamond Head Theatre and has taken classes with acting coach Scott Rogers.
"When I was smaller, my favorite thing was Hannah Montana," says Grubbs. "I wanted to be on Hannah Montana, and my parents used to tell me, well, you gotta keep working. And then when I got the call (from Hawaii Five-O), my dad said, 'Your dream came true.'"
As for her make-believe dad, Grubbs says he (Scott Caan) is nice and fun. "In the beginning it was kind of hard and weird to get used to (having another dad)," she says. "We joke around a lot and I look up to him."
The show airs after her 8:30 p.m. bedtime, so she usually catches up with her DVR on the weekends. "Most of the time I watch the whole show depending if we have time and if it's scary or not," she says. "Like the last show of the first season I really wanted to stay up and watch it, so my parents let me and then I couldn't go to sleep. And the first show of the second season was really scary too. I got nightmares."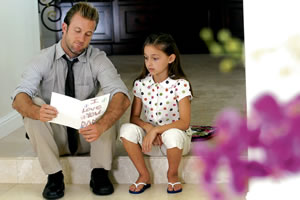 At the red carpet season premiere earlier this year in Waikiki, Grubbs showed she's a natural in front of cameras. On set, she's been credited for taking her role seriously. She's also a big fan of Craft Service. "It's this big truck of snacks and ice cream, and it's free," she explains. "It's my favorite thing on set."
For Dennis Chun, who plays HPD Sgt. Duke Lukela, being part of the new Hawaii Five-O has extra-special meaning. His late father, Kam Fong Chun, played Chin Ho Kelly (Daniel Dae Kim now has that role) in
Page 1 of 2 pages for this story 1 2 >
Most Recent Comment(s):