Why Did Michael Broderick Quit Being A Judge? Here's Y
Michael Broderick left Family Court for the YMCA to make positive contributions to isle youths on the 'front end'
Wednesday - April 13, 2011
By Chad Pata
E-mail this story | Print this page | Archive | RSS
|
Del.icio.us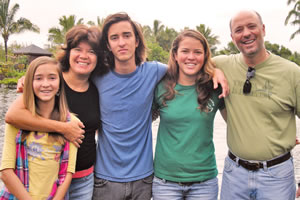 The Broderick-Meyer ohana: Hannah, wife Maile, Drew, Emma and Mike at Kapoho on the Big Island. Photo courtesy of the Broderick family
but I had reached a point in my life where I felt there was a different kind of contribution for me to make. It's not a criticism or devaluing of being a judge; it was a privilege. But it was very personal, for me, for the next 10 years, where can I be the most effective."
And now that's he's running the YMCA with its many youth programs?
"I'm excited!"
His arrival at the Y could not have been timed better. His passion for turning around lives corresponds with a rebranding of the Y that is focused not on the "Swim and Gym" for which it is known nationwide, but its lesser known but much more important goals of youth development, healthy living and social responsibility.
The Y (as it is now known, shortened from the YMCA we grew up with) has been a part of the Islands dating back to 1869 and has played a great role in the history of the state, serving as an employment center during the Great Depression, a shelter for the victims of Pearl Harbor and providing respite for the soldiers of World War II.
Last year the Y impacted more than 100,000 people on Oahu, either serving them as members or through one of its many programs. They provide A-Plus as an after-school program at 47 elementary schools, helping 6,700 kids with their scholastic and personal development.
It is at this level that Broderick believes he can see the Y's biggest impact in preventing the trauma.
"By (age) 15 to 17 it is too late to be telling kids about drugs and domestic violence - I didn't know that until I took that job (as judge)," says Broderick. "But a 6-, 7-, 8-year-old, you can introduce the idea of treating people with respect physically, you can introduce the idea that it is not right to bully kids, you can introduce the idea that drugs kill people. So that's the opportunity we have through our A-Plus sites. That is powerful stuff."
Another powerful program they have is collaboration between the Y and the U.S. military called Operation Purple. Locally, it is conducted at Mokuleia's Camp Erdman, where children who have one or more parents deployed come together for a week of camping, climbing the ropes course and fellowshipping with kids who find themselves in the same tough situation.
The camp provides psychologists for kids who want it, but often the best treatment is just letting them realize they are not the only ones missing their mom or dad.
This idea of combining efforts has really sparked Broderick's imagination. Currently he is working on partnerships with everyone from the new Kroc Center, HMSA, Kaiser, OHA, DOE and the American Diabetes Association.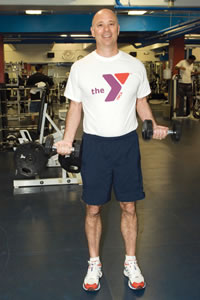 Broderick emphasizes the Y is more than 'swim and gym'. Nathalie Walker photo

.(JavaScript must be enabled to view this email address)
"We need to be entrepreneurial around developing partnerships for community needs," says Broderick, who speaks with the fervency of a minister. "We must initiate discussions with these organizations because they have constituencies that we can help."
It is through these partnerships that Broderick believes he can help the people who need it the most.
"Here's the key for me: It's important for people who have nothing to be able to use our facilities," says Broderick, who has an abiding passion for the less fortunate, proclaiming they are the ones he most admires.
"My hero is the guy who lives in Ewa Beach and takes a bus to Waikiki for an $8-an-hour job, then takes the bus back at night. That guy is my hero. The 15-year-old girl who has been sexually abused by her father and been in five different foster homes and is still getting up and going to school every day, that's my hero. I used to look up to the highly regarded trial lawyer or the distinguished heart surgeon. I don't look up to them anymore.
"My heroes are the people who get up every day, despite facing circumstances that you or I would find inconceivable, and just keep going. Those are the people who inspire me."
For the future, Broderick is exploring where to extend the Y's physical presence. Due to his experiences with Family Court he has a bias toward the Leeward side and would love to put a facility in Waianae, but he must balance that with the commitment the Y already has to build a $43.8 million facility as part of the new McKinley High School master plan.
A lot of tough decisions are ahead of him, but he is a man used to making such choices, and this time he will be helping people before it's too late.
"I feel like I have been given the opportunity of a lifetime. I'm still in the kid/family business, but I'm in at a different place. Here we can help the trauma not happen," says Broderick.
"What was cool was when it was announced that I would be stepping down from the bench to take this job, I have had literally hundreds of people tell me how the Y changed their life, their father's life or a dear friend's life. That has been really gratifying for me and a reaffirmation for me that, you know, this place is pretty cool!"
Page 2 of 2 pages for this story < 1 2
Most Recent Comment(s):