The New City Council chairwoman
Windward member Barbara Marshall heads the Honolulu City Council as its first female chair in 20 years

Wednesday - January 17, 2007
By
.(JavaScript must be enabled to view this email address)
E-mail this story | Print this page | Archive | RSS
|
Del.icio.us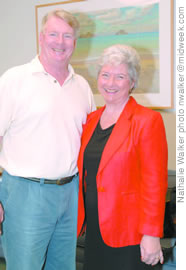 Marshall glows when she's with
husband Cliff Ziems
convictions; she won't change them to serve her own self-interest - or any special interest.
"What you see is what you get with Barbara. She won't tell you one thing then turn around and do another."
East Honolulu Councilman Charles Djou concurs. "Barbara clearly does her homework and is always well-prepared. She's also articulate and knows how to make her case.
"Her weakness is that she doesn't realize that you don't have to go to war every time over every issue. She brings a healthy dose of skepticism to her committee work; but she tends to be confrontational, come out with all her guns blazing."
At least one City Council critic accuses Marshall of "sometimes over-questioning," of "going off on well-informed rambles." Another feels that, as a councilwoman, Marshall remains "a consummate reporter" who asks tough questions based on her thorough homework. Still a third attributes Hannemann's willingness to see Marshall become chair to his conviction that "she'll listen and try to be fair."
What remains open is whether the skills that have made Marshall such an effective councilmember will translate into an effective leadership style for the Council. "I think I can keep it organized," says Marshall. "And I intend to draw on the strengths of all the members to make the Council work."
Before she was Councilwoman Marshall or Council Chair Marshall, Barbara Marshall was known to Hawaii as a television reporter. She came to the Islands in 1979 and went to work immediately for KHON as a reporter and anchor. Twenty-one years later Marshall left the station as an executive producer.
She was born Barbara Novak in1944 and reared in the suburbs of Chicago, the oldest of three children of a division manager for the Frigidaire Corporation. The Novak family moved to a small town near Peoria, Ill., where she attended high school and began working for a local newspaper.
She entered the University of Illinois, intent on getting a degree in speech correction. But journalism drew her and she became one of the university's first majors in radio and television. She took her degree in 1965 and went to work for a television station in Champaign-Urbana.
Novak married an architect named Gary Marshall in 1966, then moved back to Peoria where she worked as a television reporter and anchor. In 1968, the Marshalls moved to Boston. There, in 1971, Barbara gave birth to her only child, son Joe, and again found work in television news.
After a year's sojourn in San Diego, the Marshalls arrived in Hawaii in 1979. Barbara did a brief stint at KITV, then found her Hawaii television home at KHON. "I was the first woman in each of the news rooms in which I worked," she says.
In 1983, the Marshalls' marriage ended in divorce. On July 4, 1991, on Kailua Beach, Marshall married Cliff Ziems, a retired racing engineer for Champion sparkplugs. Fifteen years later, the two glow still in each other's presence.
Marshall's tenure at KHON proved fruitful. "I did the first live morning cut-ins on KHON," she remembers. She also speaks with pride of a documentary she did on Hawaii astronaut Ellison Onizuka, another on drug babies, and a series on the Kamehameha Schools.
Marshall took from the newsroom lessons that have served her well in government service. "I learned that there's always another side to the story. The first side always sounds good, but there's always another side.
"I learned never to regret being accurate and truthful, and I learned that there are no stupid questions."
Marshall claims she never had a bad boss, until her last one at KHON, and that's why she left her job as a KHON executive producer in 2000.
"The day she left was the saddest in my broadcasting career," says KHON anchor Joe Moore. "She was the best producer I ever worked with: tough, knowledgeable and smart. She was very savvy about news and how to get it.
"I was the one who gave her the nickname 'Sarge.' She was very clear about what she wanted. She was the command sergeant major of the newsroom, barking orders to people. I think it might have been hard on some of the younger people. It was easier on me."
Moore admits that he was surprised when he heard that Marshall was interested in public office. "She was not one who compromised on her stands and values," he says. "So much of politics is go along and get along; scratch my back and I'll scratch yours. That's not Sarge. Hers is the way it's done.
"But I'm not surprised she's succeeded. She is steadfast in her beliefs."
Being "steadfast in her beliefs" and "barking orders" may serve her well as Council Chair. Then again, they may not. Marshall doesn't seem to care. "I never aspired to be Chair, and I have no political aspirations," she insists.
"A number of people have asked me whether I was interested in being governor or mayor, and the answer has always been no. I'm not a politician. I have a grandson and a husband I adore. I'll leave politics to those who are good at it, those who love the battle."
For now, at least, she'll be satisfied to be "Madame Chair."
Page 2 of 2 pages for this story < 1 2
Most Recent Comment(s):