Dancing Queen
Cara Horibe, a former Rainbow Dancer, wows America on MTV's 'Randy Jackson Presents America's Best Dance Crew' and may get invited on the show's tour

Friday - August 29, 2008
By
.(JavaScript must be enabled to view this email address)
E-mail this story | Print this page | Archive | RSS
|
Share
Del.icio.us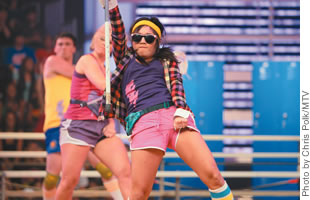 Cara Horibe, foreground, and her dance crew Fanny Pak have earned raves from MTV viewers and judges alike
Cara Horibe was ready to give up dancing and start cutting hair when she got a call to appear on America's Best Dance Crew. Now her career as a stylist looks like it's over
Former UH Rainbow Dancer Cara Horibe and her dance crew Fanny Pak may have been eliminated from the popular TV show Randy Jackson Presents: America's Best Dance Crew season two, but fans will get another chance to see and vote for Horibe and her crew as they appear on America's Best Dance Crew: Battle for the VMAs, which airs this Saturday, Aug. 30, at 1 p.m. on MTV.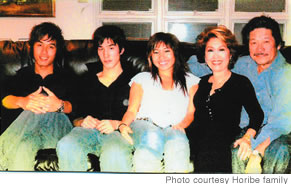 Cara (middle) with brothers Cale and Cole and parents Wanda and Lloyd
This special episode features the show's season one crews Status Quo, Kaba Modern and Break Sk8, as well as season two crews SoReal Cru and Fanny Pak, all competing for the chance to present at the MTV Video Music Awards on Sept. 7.
Each crew will perform to one of the music video nominees, and as usual receive critique from judges JC Chasez, Lil Mama and Shane Sparks.
However, the ultimate decision will be made by the viewers as fans can visit http://dance-crew.mtv.com to vote for which crew should present.
The winning crew will be revealed at the Video Music Awards when they are called on stage to present the award.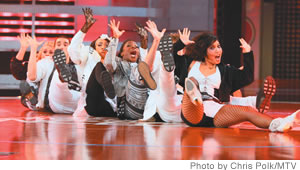 Cara, right, and Fanny Pak get down for this number
Also, for the first time the champions of season one, JabbaWockeeZ, and season two, Super Cr3w, will dance together to a choreographed routine by Shane Sparks.
"Being on the show has been more than a dream for me," says Horibe, a Castle High graduate who has been living in a Burbank hotel with her dance crew for the last few months. "Every day, our crew, we'll ask each other, is this really happening? Are people really stopping us for autographs?"
Now that the show has come to an end, Horibe may soon be celebrating another dream come true as Fanny Pak is likely to earn a coveted spot on the upcoming America's Best Dance Crew Live tour starting Oct. 13.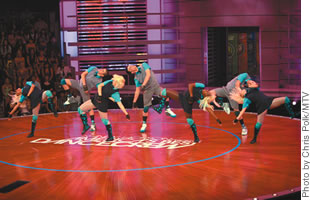 Horibe and Fanny Pak may be part of 'Best Dance Crews' upcoming tour
"I love to travel so if I were able to travel and dance at the same time, that would be the most amazing thing ever," she says. "It would be like accomplishing two dreams in one."
Horibe, who is Japanese, Korean and Portuguese, moved to Los Angeles in October 2006 to pursue dance and quickly discovered that it wasn't going to be easy. While working as a server at Roy's in Woodland Hills, she attended dance classes and went to many auditions, but to no success.
"There are so many dancers who want it so bad and they come to L.A. so hungry, and everyone is amazing, but there are only so many jobs," explains Horibe, 24. "It's kind of discouraging sometimes. You really have to build some tough skin to keep putting yourself out there and keep going to audition after audition."
Horibe admits that she was almost at a point of giving up on dance and looking into her future career: taking over dad Lloyd's hair salon, Hairscapes, in Manoa.
Page 1 of 2 pages for this story 1 2 >
Most Recent Comment(s):