Days of Darin Brooks' Life
Just six years after he got his start in acting at Kaiser High, Darin Brooks is a star on Days of our Lives and in the running for a Daytime Emmy. On Days of Our Lives, Brooks plays Max Brady, a

Friday - May 16, 2008
By
.(JavaScript must be enabled to view this email address)
E-mail this story | Print this page | Archive | RSS
|
Share
Del.icio.us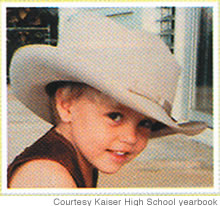 Howdy, pardner: Brooks as a kid
From Rapunzel's Prince in Into the Woods at Kaiser High School to Max Brady on the award-winning daytime soap opera Days of Our Lives, Darin Brooks has become a familiar face for millions of soap opera fans across the country. And at only 23 years old and with three years on the show, he's now up for a Daytime Emmy for Outstanding Young Actor in a Drama Series.
"I first started acting through the theater program at Kaiser,"says Brooks, a 2002 graduate. "It was my sophomore year and they wanted me to play Cinderella's prince, but I thought, oh, man, that's going to be a big part, I don't know if I can remember all those lines. So, they said, how about Rapunzel's prince? And I said OK, let's give it a shot. Then when we started actually going on stage, by the end of the play I knew everybody else's lines and I was kicking myself after (for not taking the bigger part)."
With a newly discovered passion for acting, Brooks enrolled in acting classes taught by Wayne Ward, started modeling and worked as an extra in Oahu-filmed movies The Big Bounce and Blue Crush.
He then signed up for a casting workshop on Kauai where he met casting director Kathy Henderson, who saw potential in Brooks and told him to contact her if he was ever in Los Angeles.
"So I moved to L.A. after my first semester at the University of Hawaii Manoa and called her right away, got an agent right away, took some acting classes and three years down the road I got Days," explains Brooks, who now lives in Burbank with older brother Adam and a best friend."Honestly, I never watched the show in my life, but I knew it was a big show with a huge following."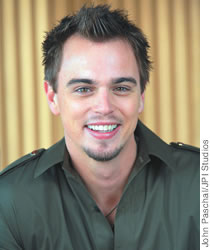 The actor today: 'My character is kind of like me'
On Days of Our Lives, Brooks plays Max Brady, a sexy race car driver who escaped from his abusive father at an early age, and along with his big brother Frankie moved to Salem, the fictitious Midwestern town where the show is set.
"My character is kind of like me,"he says."He's kind of the hero and he would go out of his way to help someone, and a lot of those qualities are me. Also, I try to bring that goofiness that I have into it and the uniqueness that I have."
One thing he doesn't share with his character: pidgin."It does come out when I'm home, but I've been trying to get rid of it," he says.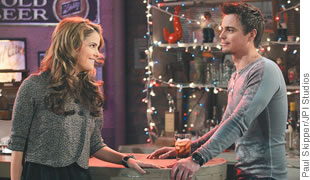 Max (played by Brooks) with on-screen love interest Stephanie (played by Shelley Hennig) on the Days of our Lives set
Brooks, whose ethnic background is Irish, Polish, Belgian and Norwegian, was born and raised in Hawaii. His parents, Don and Susan Brooks, moved to Oahu from Malibu 25 years ago and still reside here along with Brooks' miniature dachshund, Keiki.
Don is a Realtor with Surf Realty and Susan owns Arts of Paradise gallery in Waikiki.
"Sometimes people come into my mom's art gallery and see my pictures on her wall and they'll say 'you know Max Brady?'" says Brooks. "And she tells them, 'that's my son,' and they're like,'oh my God,' and she ends up signing autographs for me. But she signs her name, mother of Max Brady."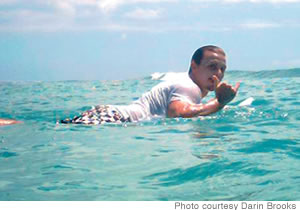 An island boy at heart, Brooks is big on surfing
As a child, Brooks attended Koko Head Elementary and Holy Trinity schools. At Kaiser High, he was a quarterback on the football team for two years, served as a prince on the Junior Prom Court and graduated magna cum laude. He loves music and surfing, describes himself as the class clown and also played in several rock bands.
"I was the lead singer in one, the bassist in another, the guitarist in another and the drummer in another," he recalls. "I like to
Page 1 of 2 pages for this story 1 2 >
Most Recent Comment(s):