Ginai Gets Jazzy
Talented, versatile Ginai steps up with a new CD, Jazz Island, that is a perfect showcase. If you've never been into jazz, this album could change your mind
Friday - March 03, 2006
By Chad Pata
E-mail this story | Print this page | Archive | RSS
|
Share
Del.icio.us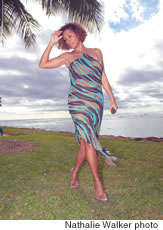 Ginai remains true to her
Leeward coast roots, bringing a
Hawaiian touch to her new
album recorded with the
Honolulu Jazz Quartet
Maybe divas are not what MTV shows us. Maybe pampered 18-year-olds singing about the loves they are yet to know don't strike a chord of truth within us. Perhaps they should taste the bitterness of life first before we trust their opinion on things.
If that is the case, then Hawaii should be proud at the final unveiling of our own local jazz diva, Ginai. On Friday, March 10, jazz aficionados islandwide will finally get a chance to see what they knew all along: Ginai was meant to be one of the preeminent jazz solo artists in Hawaii.
The CD release party will be held in the Hanohano Room at the Sheraton Waikiki with the Honolulu Jazz Quartet accompanying her - as they do on her debut album Jazz Island.
The release of this album represents not just a new spin on some jazz classics, but a new lease on life for a woman who has had to battle for it her whole life.
"This CD is moving on in a magical way for me," says Ginai, who, though this is her first solo album, has been working as a professional singer for 30 years - and previously appeared on MidWeek's cover as a member of Hula Joe and the Hut Jumpers.
"I've just felt so proud of myself, so enlightened, so vindicated. It's like, whew, I really am a solo artist; I really am good."
Before you judge the gushing over her album, you first must know the road that has taken her to this point, for her journey makes this victory for her worthy of a little bragging.
Her parents met on Oahu, her mother Hawaiian/Scottish/Irish, her father African American/Cherokee Indian/French. He was in the military, she was in love and he whisked her away to Chicago.
They had a daughter, Ginai, named after the Ingrid Bergman character in the 1958 film The Inn of the Sixth Happiness. They were happy, but the times were not. Race wars were tearing the country apart, and Ginai's mom's fair skin led her in-laws to view her as white trash.
To protect her young daughter from the racism of the time, she moved her back home to Maile Point. But she raised Ginai to be different. Even living in Waianae, she would smack her if she spoke pidgin. She dressed her well and taught her a love of jazz at a young age.
This caused Ginai to stand out, causing occasional racial epithets to be thrown
Page 1 of 2 pages for this story 1 2 >
Most Recent Comment(s):