Go Ask Alice
Known as the 'face of Hawaii' in the '90s, Alice Inoue is now a minister and life guide, traveling the world giving seminars and workshops to help clients find happiness and fulfillment
Friday - August 03, 2007
By Alice Keesing
E-mail this story | Print this page | Archive | RSS
|
Share
Del.icio.us
As a life guide, Alice Inoue, an ordained minister, also is a feng shui consultant, astrologer and spirit channeler, but she still has her feet planted firmly on the ground
Nine years ago, Alice Inoue graced another cover of MidWeek. We dubbed her the "broadcast bombshell" and with her bikini-clad photos, it wasn't hard to see why. Now Inoue is back, but with a very different message that comes more from the inner Alice Inoue.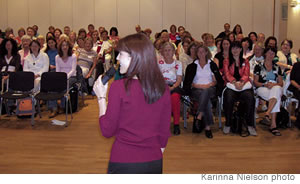 Life guide Inoue leads a seminar in Bern, Switzerland
After years as a successful television presenter who plunged into everything from scuba diving to skydiving, Inoue has completely reinvented herself. Today she is a "life guide," wearing the rather curious mixture of hats of feng shui consultant, astrologer, minister and spiritual channeler.
Even Inoue herself is somewhat startled at the change. And if you're starting to feel that those spiritual hats are a bit out there, she would be the first to agree, laughing that sometimes it's difficult for her to understand, too. Communicating with spirits and reading the planets can be a bit, ah, strange, but Inoue's infectious enthusiasm makes it seem a lot less so.
"I know I'm not alone when I say that Alice has this fantastic energy," says Judy Segawa, who has worked as Inoue's virtual assistant for the last couple of years."She is so positive and she's upbeat ... and she really comes from very high integrity."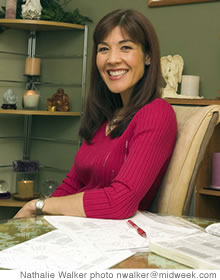 Alice Inoue guides people who are seeking a deeper meaning in life — and does it with enthusiasm
Whatever your spiritual comfort level, when it comes down to it, Inoue's messages are those that anyone can relate to. Her currency is life and happiness and fulfillment. She helps people navigate those tricky moments in work and relationships. She empowers people to break free of those fears that can prevent them from following their passion. And she guides people who are seeking a deeper meaning to life.
Inoue is so passionate about what she does that her biography lists her work as her hobby. She meditates every day and stays in shape by running on the beach and lifting weights.
The other side of her life is spent with fiancé, chef Alan Wong. It's a long-term engagement, says Inoue with a laugh, explaining that their relationship is already more than the piece of paper that comes from a wedding ceremony.
But first, let's backtrack to the late 1990s. For thousands of tourists, the vivacious Inoue was the face of Hawaii. Fluent in Japanese and Mandarin, Inoue was the presenter of hotel cable television shows and Japanese newscasts that introduced visitors to all those things that make Hawaii such a visitor's paradise. With her bright, bubbly personality, Inoue was perfect for the job and she thought it was perfect for her, too.
"I was at the height of my career in media," she says of that time.
"I had seven sources of income, three television shows, four major sponsors ... I felt like I was doing very well."
Around that time, a chance conversation led to a visit to an astrologer.
"He told me, 'In a couple of years, you'll be changing paths,'" Inoue remembers. "And I thought, 'Not if I can help it.' I thought I was doing what I wanted to do."
Inoue dismissed the astrologer's reading from her mind. But, two years later, her television contracts all reached the end of their cycles and her work dried up. As she stood in line at the unemployment office, she remembered the astrologer's words.
How could the planets see a cycle like this, she asked herself in amazement. Intrigued, she found a book on astrology and started to read.
"That moment I knew that this is what I've come here to do," she
Page 1 of 2 pages for this story 1 2 >
Most Recent Comment(s):
For all comments click here.