Hip Hop, Island Style
Joining forces with B.E.T., the son of former boxing champ Jesus Salud is punching up island music with the sounds of rap

Friday - August 04, 2006
By
.(JavaScript must be enabled to view this email address)
E-mail this story | Print this page | Archive | RSS
|
Share
Del.icio.us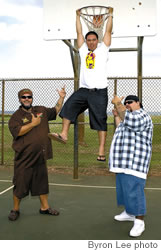 A hoops fan, I.A. hangs with
Papa T and J.D. of B.E.T.
Hip-hop aka rap beats have been tearing up the underground scene in the Islands since the early 1980s with artists such as female emcee Charlotte Kaluna aka Frumpy, the group Sudden Rush, and Hawaii's first hip-hop DJ champion DJ ELITE setting the groundwork for others to come.
Those others include local boys Jordan Salud aka I.A. and the men of Big Every Time (B.E.T.), who currently have a hit single, Dat Island Sound, on 102.7 FM Da Bomb.
"For me as an artist coming out, to work with B.E.T. is an honor," says I.A. "I feel that the single with me and B.E.T. is a crossover hit because it can be played on a hiphop station or it could be played on an island station. I'm looking to bring something new to the table and to keep bridging the gap between local music and hip-hop music."
I.A., the son of world champion boxer Jesus "The Hawaiian Punch" Salud, hopes to make his own mark in Hawaii and take his talents on the mic to another level just like his dad.
"So it's kind of him being a champ in the ring and me being a champ on the mic," says I.A. "Something kind of cheesy like that, but something epic."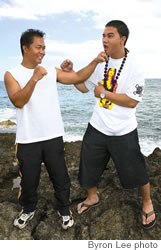 Who's your daddy: I.A. horses
around with his dad Jesus, 'The
Hawaiian Punch'
Also like dad, I.A. strives to be the best and isn't afraid of a little sweat to get there. He admires his dad's humble spirit and his ability to keep a clean image throughout his career. He also holds close to his family not only for inspiration, but for support.
In fact, he got his stage name I.A. by putting together the first letter of the names belonging to the two most special people in his life - his 10-month-old son and his girlfriend.
The Hawaii native, who was born and raised in Nanakuli and moved to San Diego when he was 5, is now back on the Island since he graduated from Bueno Vista High School in 2003.
"After we moved to San Diego we would pretty much come to Hawaii for the whole summer every year," says I.A. "I also spent two years in Florida, so I really got to see different types of music.
"Plus my mom (Julia Rios), when we were younger, she would play Prince for us and like Jets, so I was kind of raised on music."
Both I.A.'s mom and dad were raised in Nanakuli, and most of his family still resides there. Also residing there is one of his collaboration partners, Papa T of Big Every Time. The two are actually neighbors.
Tim "Papa T" Troxell is one-half of the group Big Every Time, which was shortened to B.E.T. years back when KCCN first starting airing their music - and the acronym stuck.
"Big Every Time represents our big heart, our big love and as you can see our big bodies, but we are trying to work on that," says Papa T. "For me, it's our aloha that's big."
Papa T and his partner, Joe "J.D" Daniels Jr., have been blowing up the airwaves for the past couple years with their urban, island and reggae sound. However, their roots began in hip-hop, as their first album, Polynesian P-Funk, was almost entirely hip-hop influenced.
"Our first album was a hip-hop album, but that was back in the days when the radio stations was hooked up with the big guys and not local," says Papa T. "So we had a harder time getting our music out there."
Their four albums each hold their own unique and separate reflection of their diverse backgrounds. Their second album,
Hear We Come , was released in 2000, and their third album, Volume 3, came out in 2002.
Their newest CD, Universitile , is a clever combination of Polynesian hip-hop covering issues such as the Liliuokalani overthrow to the appreciation of large women. The album was nominated for Best Reggae Album of the Year at the 2006 Na Hoku Hanohano Awards.
"Actually we have like four or five hiphop and R&B tracks on our album," says Papa T. "And we were told going into the
Page 1 of 2 pages for this story 1 2 >
Most Recent Comment(s):