From Warrior to Gladiator
For years Tanoai Reed regretted quitting the UH football program, but now his show biz gamble is paying off for him and his family.
Friday - August 01, 2008
By
.(JavaScript must be enabled to view this email address)
E-mail this story | Print this page | Archive | RSS
|
Share
Del.icio.us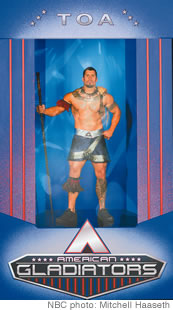 "My character Toa is Tanoai with the volume turned up," says Reed, who is Samoan and Norwegian. "Throughout Polynesia, Toa is the universal word for warrior, and I wanted to represent all Polynesia, not just Samoa or Hawaii."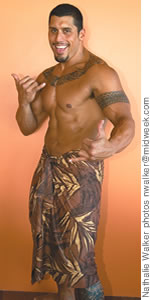 In its second cycle, American Gladiators is a 21st century reinvention of the iconic competition series and features 40 fearless contenders who face-off each week against the Gladiators in various classic games. In the end, one contender will take home the ultimate prize of $100,000.
The show's season finale is scheduled for Monday, Aug. 4, at 7 p.m on NBC KHNL 8.
"I used to watch the original American Gladiators and was a big fan," says Reed, 34. "My favorite part of the show now is the stories. Nothing is scripted, and to watch the contestants come out of the Eliminator with tears reminds me that this is real life. It's an actual competition."
Reed, a 1991 graduate of Kahuku High School, was born and raised in Hawaii. His first job in the movie industry was as a laborer on the set of Waterworld starring Kevin Costner, which was filmed on the Big Island. It was supposed to be a summer job, but Reed ended up working for eight months, and even relocated to Los Angeles for the final two months of filming.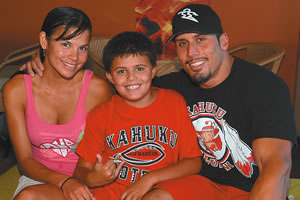 Tanoai Reed with wife Suzanne and their 8-year-old son Samson
"While I was there, I met all the stunt guys on the crew and they introduced me to the world of stunts," says Reed. "They got me on the show and I got my first paycheck (about $5,000 after two weeks), and I was like, I'm getting paid this to ride jet skis and crash them and jump them and shoot fake guns. I can't believe it.
"My grandmother,Vaitai, raised me in Laie, and we were really
Page 1 of 2 pages for this story 1 2 >
Most Recent Comment(s):