THE POWER OF PADDLING
Members of the Pure Light Racing canoe club are changing the way people look at outrigger paddling, and at disabilities. ,From left, Joe Broc, Darralyn Clarke and John Greer are training for the World Sprints later this year. It's a clear, sunny day. A group of paddlers sit on the beach laughing, talking story and readying themselves for a practice session out on the water. Smiles on their faces, they roll up to an outrigger canoe, dismounting
Friday - March 28, 2008
E-mail this story | Print this page | Archive | RSS
|
Share
Del.icio.us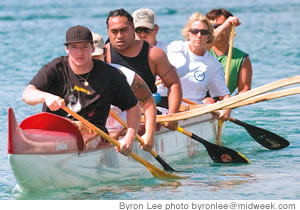 Paddling as one (from left) Joe Broc, Lea Klepees, Niko Ta'atia, Rich Julian, Darralyn Clarke and John Greer
It's a clear, sunny day. A group of paddlers sit on the beach laughing, talking story and readying themselves for a practice session out on the water. Smiles on their faces, they roll up to an outrigger canoe, dismounting one ride to get into another.
Watching them paddle up and down the shoreline in almost perfect unison shows that a book truly can never be judged by its cover, because each member of the crew is physically disabled.
You'd never know from standing on the beach, though.Watching the crew perform, and hearing the voice of Coach Aka Hemmings as he runs up and down the beach shouting,"Keep your head up! Joe, you gotta glide the paddle across the top of the water! Stop your paddle at a 90-degree angle!"you don't see a team of adaptive paddlers.You see a team of highly skilled athletes.
This is the Pure Light Racing team training to compete in the adaptive paddling division of the World Sprints, a biannual international canoe race in Sacramento. Most of the crew sport wheelchairs on land, and a few other members are missing sight and even limbs.
"I wanted to paddle. My whole family paddles," says Darralyn Clarke, a crew member born without her right hand and forearm. "I have four boys and a husband and they all paddle really well. I sat there on the beach for 15 years watching them paddle and when they all moved out, I thought, 'I wanna do it. I don't care, I wanna do it.'"
Clarke found herself in a canoe club on the Big Island and despite her tenacity, her fellow crew members felt she wasn't worth the effort.
"The team was not receptive. The women were not receptive of having me on the team because they felt I would slow them down," she says."And they really thought it was a waste of time to teach me how to steer - I mean, a one-armed girl learning how to steer? Come on."
However, her drive and spirit guided her to form her own crew, and she found a steersman who taught her the skills she wanted to learn.
Like Clarke, most of the crew members on the Pure Light Racing team also participate in other clubs around the state and are encouraged to do so by their coach.
"I could keep them all in my little bubble and baby them, but I don't play that game," Hemmings says."I want them to go out to regular clubs and fight for their seats like everybody else. 'You want to be treated normal? Let's go do it.'"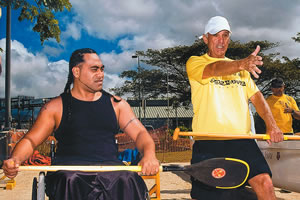 Niko Ta'atia gets some pointers from coach Aka Hemmings
Hemmings'"go get 'em"attitude and refusal to nurse his crew members because of their disabilities makes them work hard and feel like average people.
"It feels good to be treated equally," says Rich Julian, a 36-year-old paraplegic who was hit by a drunk driver in 1986."He's looking at you as a man, or a woman, and looks right beyond the disability and treats you that way. It pushes you to the next level."
Julian also was on the team last year when they participated in the Queen Liliuokalani Long Distance canoe race at Kailua-Kona in the exhibition adaptive race. He also is co-founder and vice president of AccesSurf - an adaptive surfing program for mentally or physically challenged people.
The Pure Light Racing team has been in existence for about two years, stemming directly from its parent program, Project Pure Light, which began in 2002. The program takes physically and mentally disabled individuals out on the calm waters of Kailua Bay in outrigger canoes at no cost."It's just a day at the beach with lunch in Kailua Bay," says Suzi Mechler, board member and secretary of the program.
Participants in the program liked it so much they wanted to take it to the next level, says Hemmings.
Since then, the club won first place in the International Federation World Sprints at Hilo in 2004, and took second place in the 500 meter, v-12 event at Aotearoa in 2006. The club's most recent achievement is competing in the Queen Liliuokalani Canoe Race last year in Kona - its first long-distance race - and the club crossed the finish line first.
Wanting to be taken seriously and compete on the same level as regular canoe clubs, supporters of the crews took action."Recently in October by lobbying and petitioning the IVF board, they've now incorporated us into their programing - we are an adaptive division," Hemmings says.
Though with the support of the community, a steady coach, a new division in which to compete and a lot of anticipation, the crew is still missing something important: a boat.
That's right, this club has been practicing and competing with borrowed canoes from several clubs around the Kailua and Sand Island areas. Because the program is still new and isn't generating a lot of money, it hasn't been able to buy a canoe suitable for its purposes. "We're trying to find some grant money to assist us," says Mechler. "When you're looking for a fiber-glass boat, you're looking in the range of up to $10,000. But right now many of the canoe clubs have really come forward and have been very gracious in loaning this crew their canoes for practice."
She adds that the club is hoping this story gets the news out to prospective members so that more people can participate.
Having to refit each canoe the team borrows for each practice can be a difficult process since each crew member needs to set up their own seat to suit their comforts and needs. Julian describes how all the riggings and seat modifications the crew uses are homemade, and how it's frustrating to constantly move from boat to boat.
Page 1 of 2 pages for this story 1 2 >
Most Recent Comment(s):