Unorthodox Reggae
Lyrics about singing to God songs of love and healing normally do not make a hit record, but with a reggae beat it works for Matisyahu

Friday - June 15, 2007
By
.(JavaScript must be enabled to view this email address)
E-mail this story | Print this page | Archive | RSS
|
Share
Del.icio.us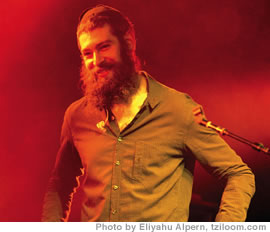 Matisyahu: It all started on Hanukkah
He's bespectacled, bearded and dressed all in black. There's something hypnotic about his song, the sincerity and determination in his young, yet wise, face, his energetic dancing across a graffiti-covered rooftop. You feel compelled to jump right in and join him.
Take a stand
Fan a fire for the flame of the youth
Got the freedom to choose
You better make the right move
"Young man, the power's in your hand" sings Matisyahu in his music video Youth, the title song of the record, which earned him a Grammy nomination this year for Best Reggae Album.
He's an Orthodox Jew, but he appeals to the mainstream, to people young and old, Jewish or gentile. He didn't just rise to public attention about three years ago - he jumped out and grabbed it, reaching into people's hearts with his universal messages about identity, life's struggles and the thirst for spirituality.
"It just so happens that someone offered me a gig on Hanukkah," explains Matisyahu on an imf.com video, linked from his website, www.matismusic.com. "The rabbi lit this huge menorah in Union Square. We had really loud amplifiers, it was rush hour, and I started singing and beat boxing, making up the whole thing. I just closed my eyes and got into it and when I opened my eyes 45 minutes later there was this huge mass - crowds of people and video cameras. That's how it started."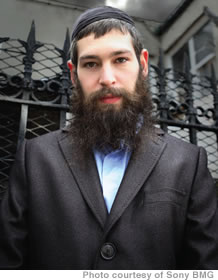 But the seeds were sewn years earlier. Born in Pennsylvania as Matthew Miller, he grew up in New York. By the time he was 17, he was sporting dreads, taking psychedelics and had dropped out of high school to follow his musical idols, Phish, who were on tour. A series of defining moments - time in the Rocky Mountains, a trip to Israel, finding Orthodox Judaism in New York - proved to be cathartic and transforming. At the age of 22 he took on the Hebrew name for Matthew. Through it all, music was a driving passion.
While reggae connotes pot-smoking, and Orthodox Judaism connotes a contrasting image of cloistered tradition, Matisyahu has reconciled the two with his unique style and sound.
"I wouldn't necessarily consider myself a traditional person," he says."I think I'm a little bit on the edge. It's true that I have certain traditions that I adhere to, but adhering to tradition is not about just doing it because that's what's been done. To me, it's kind of a springboard to doing real spiritual work. People have different ideas of what it is to be an Orthodox Jew or what it is to be involved in making reggae music. And I just don't get caught up in what those ideas are because they're not really relevant or true to me."
Although some might succumb to the stress of a busy touring schedule, the allure of drugs or the adoration of female fans, he remains true to his convictions. He has been able to successfully dovetail the world of music with spirituality.
"I don't think that the busy touring schedule or the lifestyle is adverse (to a spiritual path)," he says. "To me it works well together. It would be much harder to be involved in spirituality
Page 1 of 2 pages for this story 1 2 >
Most Recent Comment(s):