Unorthodox Reggae
Lyrics about singing to God songs of love and healing normally do not make a hit record, but with a reggae beat it works for Matisyahu

Friday - June 15, 2007
By
.(JavaScript must be enabled to view this email address)
E-mail this story | Print this page | Archive | RSS
|
Share
Del.icio.us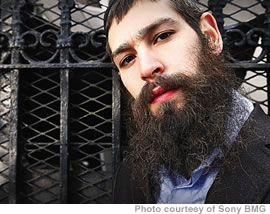 Matisyahu wears the long beard of Orthodox Jews
working a 9 to 5 job. Maybe I wouldn't be surrounded by drugs and alcohol ... at the heart of it all, it's all about some kind of spiritual movement. So whether I'm writing songs or whether I'm touring and playing shows or traveling, I think it works very well with being on a spiritual path."
He often has family support on his travels with his wife and two young sons accompanying him most of the time.
Touring the world to sold out venues and releasing hit albums has not left Matisyahu complacent. More than ever he strives for depth and meaning and to connect with his audience.
"I think the biggest challenge in music is to come up with meaningful songs and then to be able to reproduce them on a regular basis," he confides."The reason why we love music and why we listen to music, why we make music is because music has this ability to transport people out of their fragmented, kind of broken lives. For example, sometimes you hear a song, and it's able to make sense out of all these different parts of your life. I think that when people come to a show, they expect - and we expect - to try to provide them with that experience, which doesn't come easy. It's hard work to try to create that authentic spiritual experience."
Matisyahu has performed from Israel to Germany, from South Africa to Brazil. And by the time you're reading this, he'll be in the middle of his Hawaii debut. After stops on Kauai and Maui, he'll bring the Waikiki Shell to life on June 17. He's been looking forward to his time in Hawaii.
Don't be surprised if you bump into him while you're out catching waves.
"In preparation for my trip to Hawaii, we were in South Africa recently and I got to do some surfing for the first time," says Matisyahu. "I'm thinking that if I can handle the waves out there (in Hawaii) I would love to try that. Also, I've heard the hiking is really beautiful, so I'm hoping to get some time to get out into nature a little bit while I'm there."
It's visiting new places and meeting all kinds of people that Matisyahu enjoys.
"I don't know if I can put my finger on one thing in particular," he explains, when asked about the highlight of his career, "but in general, having a love for creating music and performing, and the opportunity to travel around the world and be able to do that and connect with people in different places and have the freedom to focus on my music (has been the highlight of my career)."
Indeed, his video productions of his songs Youth and Jerusalem (Out of Darkness Comes Light) both feature multiculturalism. Matisyahu has also been known to perform with Muslim beat boxer Kenny Muhammad. Their musical connection has bridged some of the world's turmoil.
"He's someone that I was inspired by as a kid," says Matisyahu of Muhammad. "He's a very talented beat boxer, so when opportunities came to perform with him I was excited. In the times we've played together there's been a strong chemistry.
We're both pretty accepting people so it's not so much of a stretch for us to perform together."
From his music to his wardrobe and lifestyle (he doesn't perform on Shabbat, the sabbath), Judaism plays a significant role in his life. Hebrew words dot his lyrics. Jerusalem focuses on themes of Jewish identity and the Holocaust. There's an especially sweet and soulful rendition of the song in a sound bite on www.wnyc.org (linked from his website) in which he is accompanied only by his guitarist Aaron Dugan. The message is moving and his voice enchanting:
We were burned in the oven in this century
And the gas tried to choke, but it couldn't choke me.
He's not proselytizing, he's pouring out his deepest feelings. The song ends with a beautiful tribute to Matthew Wilder's Ain't No One Gonna Break My Stride. Often, he takes inspiration from the Torah.
He explains on imf.com that the conception of his song King Without a Crown came while he was in yeshiva (an Orthodox school for Jewish learning). For two years he studied the Torah 10 to 11 hours a day in a dorm room in Brooklyn without listening to music or watching TV. Reflecting on those experiences, his song poured out in just 15 minutes. His enthusiasm is palpable.
What's this feeling?
My love will rip a hole in the ceiling
I give myself to you from the essence of my being
And I sing to my God all these songs of love and healing
And his creativity continues to flow.
"I don't think a person ever finishes accomplishing until they're dead," he responds when questioned about his goals."I just want to continue to make good music that affects people. We're in the process of writing the next record and I want that to be an important record for people."
For the people of Hawaii, he has a special message:
"The main thing that I want to say is thank you because I'm very excited to come to Hawaii, not only because obviously of what you hear about it being such a beautiful place and about the people being extremely kind and warm and caring. But we've had a lot of support there with the radio and with the people really digging the music. I'm looking forward to coming and I just want to say thanks for all of the support."
Page 2 of 2 pages for this story < 1 2
Most Recent Comment(s):