Yvonne Elliman: Still Rockin'
While walking in her Manoa neighborhood,Yvonne Elliman talks candidly about her roller coaster trip to stardom in the '70s when she was performing with the likes of Eric Clapton

Friday - May 11, 2007
By
.(JavaScript must be enabled to view this email address)
E-mail this story | Print this page | Archive | RSS
|
Share
Del.icio.us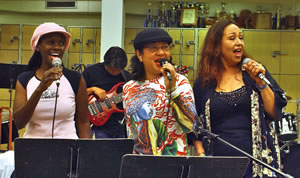 Alison Maldonado, Sandy De Oliveira and Yvonne Elliman
While walking in her Manoa neighborhood,Yvonne Elliman talks candidly about her roller coaster trip to stardom in the '70s when she was performing with the likes of Eric Clapton,before slipping into a reclusive life in California,and her subsequent return home where she's shining brighter than ever, as she prepares to rock Diamond Head Crater at the May 19 Crater festival.
Born in Hawaii and raised in Manoa, Elliman attended high school at Roosevelt, where she was swept up full swing in the free spirit of the '60s.
"I never went to school my senior year," she says, "I was a failing student."
Fate intervened in the form of a British teacher, who had taken particular notice of her musical talent (Elliman headed up a band called We Folk which had been winning some local contests).
Not only did he make sure the school graduated Elliman, he made a recording of her voice and played it for an agent in England, Morris King, who was instantly impressed.
" 'Bring her over here and we'll make her a star,'he promised.So my dad took all the money he had saved for my college and bought the plane tickets and I was gone within two weeks.
"All I wanted was to see my voice on vinyl - that was my first goal," says Elliman. At the age of 17, halfway around the world, she pursued her dream, not only of being a singer but of becoming "the best rock guitar player."Her introduction to becoming somebody happened literally, in the hands of Morris King.
"He said I had to change my name because Elliman was too ethnic, so he changed it to Kim Shane, Kim being the Oriental side and Shane (after Alan Ladd's title character in the 1953 movie) being the haole side,"says Elliman, referring to her mother's Japanese-Chinese ancestry and her father's Irish background. "So I was Kim Shane and I didn't like it at all."
King dropped her when she insisted on being herself, and she managed to charm England all the more.The Brits,who were "just crazy for Hawaii," referred to her as Polynesian. In Island fashion, she went barefoot, even on the cold streets of Soho.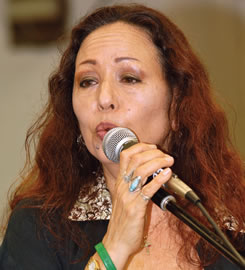 Yvonne Elliman
"This old geezer was passing by, 'Put your shoes on darling or you'll get syphilis.'"She repeats his warning in a fine British accent.She crammed her toes into a pair of shoes, gaining the notice of the woman who would introduce her to England's contemporary elite and the attention that would propel her to stardom.
"You walk like a duck,darling,let me show you how to walk"- it was a woman who served as Elizabeth Taylor's double in films. She turned Elliman on to long dresses, mini skirts, boots - the fashion of the times. She also started getting her gigs, including one at a folk club called the Pheasantry, which was to provide the break that would change her life.
She introduced Elliman to Jim Morrison of the Doors and to the great actor Peter Sellers, the teen's senior by more than 25 years. He took a fast liking to her after suffering a marijuana misadventure. "His heart started to beat real fast and (people in the room) said, 'Yvonne, you're Hawaiian, go calm him down,'"she remembers."I have no Hawaiian in me,but because I'm from here they always thought I was cool and calm and relaxed,so I went in there and started talking to him."
She calmed him down and sparked up his interest,but his savvy courting was wasted on her.A ride up and down Park Lane in his brand new,highly coveted Shelby Mustang 500 was not her cup of tea, neither was a private reprisal of his Dr. Strangelove role."He takes me to his flat,puts up this screen and gets out his projector and starts playing Dr. Strangelove, and he stands next to the screen and does the different parts," she explains."I'm watching him do this, but mainly I want to play with his daughter."
His self-indulgent amour failed to impress the young ingénue.
"He took me home and gave me a peck on the cheek and said,'I think you're a bit young, darling.'"
One day while singing at the Pheasantry, Tim Rice and Andrew Lloyd Webber paid a visit looking for the man who was supposed to be on stage that night. As fortune had it, they got a dose of Elliman's honey timbered vocals."They said, 'You're my Mary Magdalene'- I didn't know who that was.I thought it was Jesus' mom."
Thus began her foray into a whirlwind rock opera concert tour of Jesus Christ Superstar the soundtrack, which would later be turned into the movie that made history."The record had sold 12 million copies and it was snowballing," says Elliman."By the end of the six-week tour they were already doing auditions (for a theatrical tour)."
She was up against Van Halen's
Page 1 of 2 pages for this story 1 2 >
Most Recent Comment(s):