Tribal Tattoos
The ancient Polynesian islands each had its own unique cultural tattoos, but now artists are blending traditional styles into a 'Pan- Polynesian' form of personal expression
Friday - July 30, 2005
By Lisa Asato
E-mail this story | Print this page | Archive | RSS
|
Share
Del.icio.us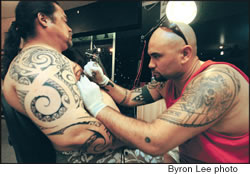 Suluape Steve (Looney, right) of Primitive
Black Tattoo works on Kimo Smith
It's Sunday in Nanakuli, and inside a churchlike structure a centuries-old practice of Hawaiian tattoo is making its mark on a modern-day man.
There's no buzz of machines at this parlor, just the delicate beat of a striking stick forcing black ink into the skin by way of a moli, or tool with a sharpened comb. "The outline is done, it went by really quick," says tattooist Keone Nunes. "But he has good skin — that helps."
Billy Adams, a part-Hawaiian painter from Nanakuli, is getting his first traditional tattoo because, he says, "It's part of my culture; it's part of who I am."
As Adams lies on a lauhala mat and pillows, Nunes blackens the vertical design of diamonds and triangles that climb from ankle to hip. First he darkens the edges, then the white space, downward first, then upward to retrace his path.
The whole process takes about two-anda- half hours, and Adams says the pain is minimal. "Technically for many people it doesn't hurt as much, it goes by quicker," says Nunes, who has worked strictly with Polynesian tools since 1999. "Culturally this is the only thing that I know of that you can honestly say that … what he's feeling now is what his ancestors felt 200 years ago, and there's no ifs, ands or buts that this is exactly how they felt."
Tattoo — or kakau in Hawaii and tatau in Samoa and Tahiti — was practiced across Polynesia with similar techniques and tools. Meanings of ancient tattoos vary, signifying rank, war exploits, protection and other things.
Adams' tattoo, the ala niho, or "pathway of the teeth," was unique to Hawaii and reflects genealogy. In Samoa, lineage is described by the pea, the intricate work that spans from waist to knee.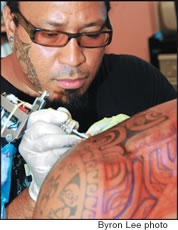 Artist Aisea Toetuu says pain is a
necessary part of getting a tattoo
"This stripe … it represents how the people traveled down the islands, that's the canoe," says Sua Suluape Petelo, pointing to the thick uppermost line of the pea on the back of Lutu Simi. "This here it looks like a kava bowl, it's a symbol of thanksgiving. When the people got safely to the islands of Samoa the first thing they did was sit down in a circle, and that's how they prayed in the old days. This line here it connects to his father's family. The double line means he's related to a high family. Further down that connects to the mother."
The Sua name is significant in tattoo circles. The Samoan tradition of tapping is traced back to two families, including his, in an unbroken line of 2,000 years.
Page 1 of 2 pages for this story 1 2 >
Most Recent Comment(s):
Commenting is not available in this weblog entry.