Lion Dance Brings Luck In New Year
Wednesday - February 01, 2012
By MidWeek Staff
E-mail this story | Print this page | Comments (0) | Archive | RSS
|
Share
Del.icio.us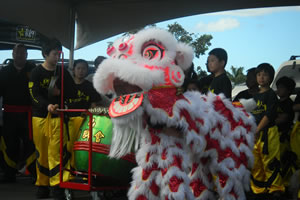 To ring in the Year of the Dragon, Kapolei Commons hosted a lion and dragon dance celebration Jan. 21.
The Chinese Lion Dance Association performed both traditional dances as well as a demonstration of martial arts in front of more than 400 guests.
The association has represented Hawaii in various international polejumping lion dance tournaments in Hong Kong and Taiwan.
It is believed that the loud beats of the drum and cymbals and the face of the dragon or lion can ward off evil spirits in the new year. It is customary for people to "feed" the lion bright red envelopes filled with money for good luck.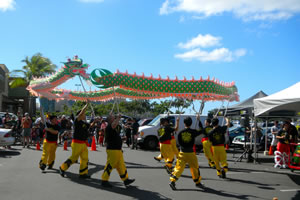 During the event, both children and adults offered the lei see (envelopes) to the lion, who visited each merchant at the shopping complex.
Kapolei Commons opened in March of 2009, and phase three of its construction plan is scheduled to be completed later this year.
[Photo]: Seen at the Chinese New Year celebration at Kapolei Commons: (above) the Chinese Lion Dance Association gets ready to perform; (right); the group performs its Year of the Dragon Dance; and (bottom) guests feed the lion to assure good luck. Photos courtesy Kapolei Commons.
Most Recent Comment(s):