Renaissance Academy Students Exploring The Art Of Poetry
Wednesday - February 01, 2012
By MidWeek Staff
E-mail this story | Print this page | Comments (0) | Archive | RSS
|
Share
Del.icio.us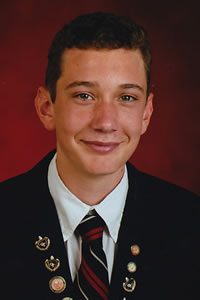 Hunter Bruno. Photo courtesy Patricia Suhs.
Students at American Renaissance Academy in Kalaeloa are studying poetry in their English classes, where they've learned about different types of poetry and how to create poems of their own.
One can never know when a young poet might get published in a community newspaper until now. Below are a few examples of student work from the classes of teachers Patricia Suhs and Leanna Chew.
From Patricia Suhs' classes
"Clueless," by Hunter Bruno, Grade 10
Oh, the many times I've taken a test without studying.
So many different questions I couldn't answer, but all I had seen before.
As all the pieces of my memory fell to the floor and shattered like glass in an earthquake.
Sitting blankly at my desk, wondering what the classmates could possibly be answering.
I pretended to yawn, just a chance to look around and see if any kids were sharing my fate.
A slight feeling of happiness as I see others as stuck as myself.
The sound of the clock ticking by, traumatizing me.
The sound of nothingness, louder than I could have ever imagined.
I knew what I had to do, I was all out of options.
I looked up for inspiration.
Down in desperation. And left and right for information.
"The Delay," by Adrien Magpoc, Grade 9
Woke up thinking it was an ordinary day in 2011.
Did my morning routine: ate breakfast, brushed teeth, headed for school.
Arriving in school found out test after lunch!
Went to class, and then in my second, studied the entire time.
Studied for test, foregoing lunch.
Then finally it was test time.
Soon as I got the test, behold! The office calls my name,
Early check out for a dental appointment.
Appointment done back to school.
Did not take the test; only 45 minutes left.
Relieved!
From Leanna Chew's Classes
"Awakening," by Kal Imlay, Grade 11
Everything is as I see Nothing now is wrong to me
All the thoughts I think today
Are good and will not decay
Every time I wake up here
I know I'll find success near
Air will give my lungs good health
Food will help me earn my wealth
What makes me think this is true
Does not owe just life ado
Everything is a mindset
Thinking not will make you fret
"Written IN Best Regards," by Laurent Drui, Grade 12
Well here we are again. Here at the crossroads Of the Tree of Wisdom. I must say that I'm considerably
INdifferent to your antics.
You seem to pursue INteresting things.
At first, I came to the realization:
You would never change.
Little did I know I was dead wrong.
Nor did I know much about you
IN the first place.
You've greatly improved upon your
INteraction with peers. Since the last time We had a conversation, I didn't want to see you again.
And I never did. Not until now.
The fact of the matter: You have changed. For the better, IN fact.
That was partly thanks to me.
But at this point, You don't need me anymore.
No one does. Not even children.
Society is changing, my good friend.
I think you're old enough
To know that it's not For the better.
Not one child has, or even needs, an
INnate sense of imagination.
So go! Go change the world!
Let my spirit be reflected by
Your actions!
Let my whispers be heard,
All across the lands! For the longer you stay at
The Tree of Wisdom, The longer you spend not
INfluencing young minds
So that we can all regain What has been lost.
I leave you with these last words
As I bid my final farewell.
So long, My old friend.
May my will be carried on for generations to come.
Most Recent Comment(s):