Red Raiders Empowered At Turtle Bay

Wednesday - June 29, 2011
By
.(JavaScript must be enabled to view this email address)
E-mail this story | Print this page | Comments (0) | Archive | RSS
|
Share
Del.icio.us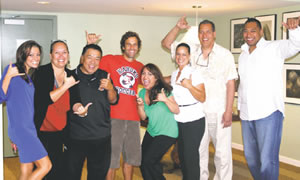 Local celebrities enlivened Ho'omana Youth Empowerment Day at Turtle Bay for Kahuku teens with fun and encouragement about college, careers and healthy lifestyles earlier this spring. Pictured (from left) are Miss Hawaii Jalee Fuselier, Delsa Moe, Sam Choy, Jack Johnson, KeAloha Alo Douma, Anitra Patane, Allen Anae and Setema Gali. Photo courtesy Ho'omana Foundation.
Kahuku High School seniors learned what it means to "get motivated" at an inaugural Youth Empowerment Day in April, hosted by Ho'omana Foundation at Turtle Bay Resort. The Kahuku-based nonprofit aims to inspire, uplift, motivate and empower, and it did just that for the students with speaker presentations, college displays and lunch.
"(Ho'omana COO Anitra Patane) and I wanted to inspire the youth, to motivate them, and show them career opportunities and introduce them to people from the community and Kahuku alumni who have achieved success in their respective fields," explained Ho'omana CEO KeAloha Alo Douma. "As graduates of Kahuku High School, Anitra and I have long wanted to give back to our alma mater, and we knew others would embrace the opportunity to do so as well."
Speakers included distinguished Red Raiders: Chef Sam Choy, Dr. Allen Anae, attorney Douma and Jack Johnson. Also presenting on the theme "Step Into Your Greatness" to the audience of about 200 were Miss Hawaii Jalee Fuselier, artist and entertainer Kap Tafiti, and entrepreneur and motivational speaker Setema Gali.
"The speakers were each chosen for their unique ability to relate to the students, and to inspire them with their own personal stories of humble beginnings leading to professional and personal success," explained Douma. "Students have already been emailing their recommendations for future speakers they'd like to see."
Kahuku has had a rough school year, with the suicide of one of its star football players as well as a football season that ended prematurely when the team was disqualified from playing in the OIA because of an ineligible player on the roster. Kahuku ranked No. 1 with a standing of 10-0 in fall season.
With Ho'omana Youth Empowerment Day, Douma and Patane focused on giving the school a boost in morale.
The event celebrated some of the students' chosen career paths and encouraged them to pursue higher education, while also highlighting topics like healthy living, cultural pride and sensitivity and leadership development.
Most Recent Comment(s):