Staking Out Some Great Steaks

By
.(JavaScript must be enabled to view this email address)
Wednesday - August 15, 2007
|

Del.icio.us
We went on a steak safari to stake out ways to satisfy the craving for beef that does not devour the pocketbook. We found sizzling cookouts at supermarkets, shopping centers and college campuses.
Six bucks gets you a hearty meal of sliced steak, rice, salad and, at some places, a beverage. That's for a regular serving of meat (6-8 ounces), or you can order the "animal" portion for few more dollars and get 10-16 ounces. For lunchtime or dinner takeout, it's a good deal.
Best part is you don't have to fuss with the outdoor barbecue grill or labor over a hot stove. Steak cookouts happen weekly at a number of places. Get to know the schedule, and watch for smoke signals. If you're driving by, the aroma of sizzling steak is a strong lure.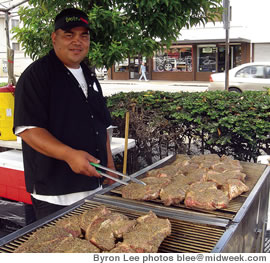 Alteri Rout at Times steak grill
Times. Tastemasters fan the flames for steak lovers at various Times Super Markets. As a showcase of Sterling Silver top sirloin USDA choice, steak plates are featured at McCully, Wednesday and Friday; Kahala, Thursday; Kailua, Friday; Kaneohe, Saturday; Waipahu, Wednesday and Saturday.
Also, Beretania, Thursday; Aiea, Thursday; Koolau, Sunday and Friday; Liliha, Monday; Waimalu, Friday; Royal Kunia, Monday and Saturday. Steak plates cost $6.50 and $11.25, or $4.90 for meat portion only.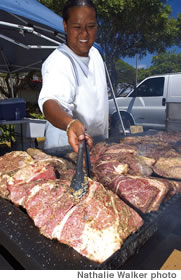 Shantey Manini grills away at Foodland Mililani
Foodland. Ono Angus choice chuck steaks are on the grill at several Foodland locations. You'll find them at the Beretania store on Tuesday, Mililani on Wednesday, and Ewa Beach on Friday, from 10 a.m. to 6 p.m. For $6.50, you get a 7-ounce steak, tossed salad, rice and a drink. For $8.99, there's a 1-pound steak-only plate that you can take home to add your own with choice of starch and veggies. Fries and kim chee?
Ward Gateway Center. Look for the red-and-white steak cart parked at the corner of Ward Avenue and Auahi Street, adjacent to Starbucks and the Marukai Store. You can't miss the big "Steaks $6" sign on top of the cart. It's a one-item food stand, where succulent sirloin is the star attraction. Best of all, it's open seven days a week, 10 a.m. to 6 p.m. Get it medium-rare and wonderful.
Blazin Steaks. This operation is in the air-conditioned food court at Windward Mall, so it gets points for ambiance. But the same juicy, grilled steaks are served here as at its sister-operation at Ward Gateway Center. Same price too. That's $6 for sliced sir-loin tip, rice, salad and drink. Menu includes grilled fish and chicken too. Open mall hours daily until 9 p.m.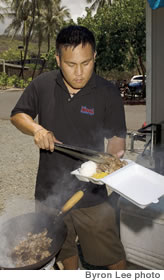 Pablo Sato's Signature Steaks are a huge hit at UH
Pablo Sato's Signature Steaks. Where do former hip-hop radio DJs go? If you're Pablo Sato, it's the restaurant business. College students gather at 1111 Bishop St. (Remington College building) or at his lunch wagon on the UH-Manoa campus near the Hawaiian studies department. Steak is prepared three ways: Original sprinkled with Hawaiian salt, pepper and herbs; Teriyaki for a sweet and spicy twist, and Garlic with signature sesame oil sauce. Portions are mini ($5), regular ($6-$6.50), and "animal" $10-$10.50). Add a waffle dog ($2 with purchase of steak plate). Weekdays, 10:30 a.m.-3 p.m.
Keawe Steak Plate. No propane grilling here. Steaks are cooked to perfection on mesquite keawe charcoal and served with rice and tossed greens. USDA Choice top sirloin is available as a plate lunch ($6) or by-the-pound (from $4.75). Look for the blue tent in front of Tanabe Superette, 934 Keeaumoku St. Saturdays only, 9 a.m. to 1:30 p.m.
Try one of these steak cook-outs soon, and see if they meat your expectations. Meat. Get it? Never mind.
Most Recent Comment(s):