Audrey Kamiya

By
.(JavaScript must be enabled to view this email address)
Friday - September 15, 2010
Share
|

Del.icio.us
|

Podcast
|
WineAndDineHawaii.com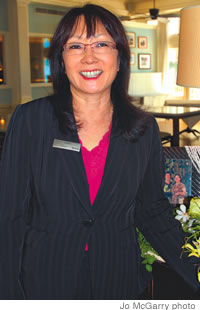 Occupation: Outlet manager for Beachhouse at Moana Surfrider
Where were you born and raised? Los Angeles. I moved to Hawaii in 1984 and began working at the Moana in '86.
What started your interest in the food and beverage industry? I didn't really imagine that I would end up working in the industry, but I ran a flower shop for eight years and I always enjoyed working with people. I also owned a karaoke bar, so I had a pretty good insight into that side of the industry.
I think it takes a really special kind of person to work in hospitality. (laughs) Oh, yes, you certainly have to love working with people.
What do you eat when you come to Beachhouse for dinner? I love the rib eye or the catch of the day.
Do you cook at home? I used to bake a lot. But now I don't have time. I spend most of my time here!
What's always in your fridge? Beverages, juices, fruits and a variety of sandwich ingredients.
Favorite restaurants? Café Miro. And I love Japanese food. But it's hard to find a more relaxing place to be than on the veranda here for afternoon tea.
With whom would you most like to have dinner at Beachhouse? I think Johnny Depp. He's been here three times recently and I'd be interested to see what it is about the restaurant that makes him keep coming back.
Anything that might surprise people about you? I have my professional name in Kabuki (the Japanese art of dance and drama). It's a great creative outlet. I studied and danced for years, but nowadays I'm on extended leave as I don't really have the time.
Most Recent Comment(s):