Bill Comstock

By
.(JavaScript must be enabled to view this email address)
Friday - May 12, 2010
Share
|

Del.icio.us
|

Podcast
|
WineAndDineHawaii.com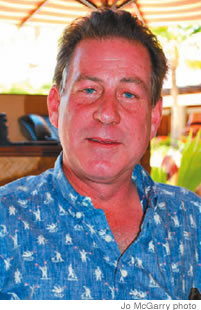 Title: General Manager, Outrigger Reef On The Beach
Where were you born and raised? In a small town outside of Jacksonville, a place called Switzerland, Fla.
What started you in the food and beverage industry? I started as a pot washer in Washington, D.C., and worked my way up. Like many people, I worked my way through the kitchen, learning all the stations and cooking. Then I went to the front of house, where I stayed.
When did you come to Hawaii? About 15 years ago. I opened the Doubletree Alana Hotel in Waikiki.
This "new" Outrigger Reef on the Beach has managed to strike a great balance between catering to tourists and keeping local people a top priority. It's always been the goal to take care of our local guests. If you come at night and go to Kani Ka Pila, it's 50 percent local people who are enjoying the food and the music. I think that's a testament to what we're trying to do.
How do you describe Kani Ka Pila to people who've never been? It's like old Hawaii, back in the day when people were playing on their lawns and enjoying the music and each other. It's a relaxing place to come and the music is wonderful.
When it first opened, you had high expectations of the entertainment at Kani Ka Pila. Is it living up to its name? Oh gosh, yes! It really lives up to its name. Just a couple of weeks ago we had Tia Carrere, Barry Flanagan and Daniel Ho all come to play with Kawika (Kahiapo), and then Sonny Ching came up to dance hula. It certainly has its chicken-skin moments.
Do you still like to cook? Yes, when I have time. Shrimp scampi is a specialty of mine.
What's always in your fridge? Always greens and salad of some kind.
Favorite kitchen gadget? Anything that makes peeling garlic easier. I love garlic.
Who'd you most like to see hanging out at Kani Ka Pila? I would love to see Maunalua come here to play. They are wonderful musicians and we'd love to have them.
Is there anything about you that would surprise people? I collect old comic books from the 1960s. I've enjoyed them for years, and have quite a collection.
Most Recent Comment(s):