Dean Okimoto

By
.(JavaScript must be enabled to view this email address)
Friday - March 31, 2006
Share
|

Del.icio.us
|

Podcast
|
WineAndDineHawaii.com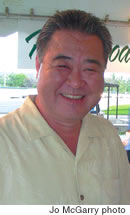 Dean Okimoto
Dean Okimoto is the owner of Nalo Farms and president of the Farm Bureau. He is the "face" of farming in Hawaii, and most times the voice of local farmers. His farm in Waimanalo supplies greens and herbs to the top restaurants in Hawaii. Here he talks about his favorite food, his business philosophy - and why he's a sucker for Julie Andrews.
Age: 51
Where did you go to school?
Iolani and then I graduated from the University of Redlands with a BA in political science.
How did you start farming?
Well, my intention was to study law, but I came back to the farm and started helping my dad and I found I really enjoyed it.
Who has influenced you most in your personal and professional life?
My dad, because he was a farmer with great integrity who knew how to persevere - and he was a man who went through a lot.
Professionally, the course of my work was changed largely because of Roy Yamaguchi and Chuck Furuya, who encouraged me to start growing greens for chefs.
Where do you go to eat and relax?
Side Street, Tropics Diner and Roy's once in a while.
Favorite dishes at any of those places?
Actually at Side Street it's something that I don't eat all that often - the ahi belly. It's really good.
At Tropics they do great poke, and they do this Korean hamburger with kim chee that is pretty good.
Do you cook at home?
Oh yeah. I do an herb-sherry marinated grilled chicken that I love - and most everyone else does too.
What's always in your fridge?
Butter and shoyu.
With whom would you most like to have dinner?
Actually I'm lucky enough to have dinner with the people I enjoy being with the most quite often. I just love having dinner with a few good friends. Enjoying their company, some drinks and good food. To me, that's a pretty good evening.
What do you say to people who say they can't afford local produce, that it's too expensive?
I really believe that if people taste local products side-by-side with Mainland stuff, they are able to see the difference. Freshness makes a huge difference to taste.
What's your business philosophy?
Consistency, quality and service.
And personally?
I try to live with integrity and humility.
What's your favorite movie?
The Sound of Music. It's one of the few movies that I can watch over and over, and it still makes me feel good. I don't know if I want you to print that, though.
Most Recent Comment(s):