Ed Robles

By
.(JavaScript must be enabled to view this email address)
Friday - August 19, 2009
Share
|

Del.icio.us
|

Podcast
|
WineAndDineHawaii.com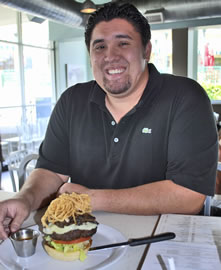 Job Title: Co-owner, The Counter, Kahala
Where were you born and raised? The Bronx, N.Y., but I've called Hawaii home since I was in elementary school here.
How did your interest in food and beverage start? It grew out of my career field of choice in the Air Force. I was in food service, and I got to do a lot of great things and gained lots of experience. On my last assignment, I decided that I wanted to come home and settle here, and that the food business was where I wanted to work.
You chose a pretty experienced partner for starters. (laughs) Yes, I was fortunate to partner with D.K. Kodama.
Did you have any idea when you opened The Counter earlier this year that you'd be so busy? No idea. We knew we had a good location here at Kahala Mall, and we knew that The Counter was a great concept, but we were still really surprised by the number of people who came in the first couple of months. There were days during the second week where we served a thousand burgers.
What's your favorite burger? Bacon and fried onions.
Why do you think The Counter is so incredibly popular? I think it's the concept. People like the fact that they have a choice of everything. There are so many combinations here. We experiment with something new every day.
Do you eat a burger every day? Well, we're really lucky here because we have turkey and chicken and veggie burgers, so it's not like we have to eat red meat every day. And there are more than enough combinations to eat something different every day.
At this rate it will take you about six years to eat everything on the menu.
(laughs) Yeah, and in Hawaii we added different toppings too, like kim chee and the loco moco.
What do you like to eat when you're not working? I love Japanese food - and you really can't beat Sansei's sushi, so I really love to go there. And I really like that garlic restaurant on Waialae Avenue, Ninniku-Ya. I love their garlic rice.
Do you cook at home? Not so much anymore! My wife is a really good cook. She makes Japanese-style curry and rice that I love.
What's always in your fridge? Key lime sparkling water and leftovers - lots of leftovers.
For whom would you most like to make a Counter burger? President Obama. I've heard he's a big burger fan. I think he'd like the old-school classic burger.
Will we see The Counter opening elsewhere soon? Yes. We've signed on for several more in Hawaii.
- Jo McGarry
Most Recent Comment(s):