Erika Kauffman

By
.(JavaScript must be enabled to view this email address)
Friday - May 13, 2009
Share
|

Del.icio.us
|

Podcast
|
WineAndDineHawaii.com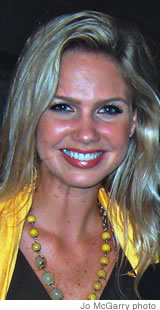 Age: 30
Title: Director of Public Relations, Halekulani Hotel
Where were you born and raised?
Kealakekua on the Big Island. I graduated from Makalani, studied at HPU and then in Switzerland.
What got you interested in PR and particularly the food, beverage, hotel industry? I grew up traveling with my family, and I think that this business is really about relating to people. When you travel a lot, you learn to relate and communicate. I think that being Miss Hawaii in 1997 thrust me into communications. At that time, the Miss Hawaii position was much more about being a spokesperson.
So the beauty pageant industry helped?
(Laughs) Well, during my year as Miss Hawaii I was expected to be an ambassador, and that naturally puts you into a default of communications. I continued from there. I studied communications at HPU, then I interned at Communications Pacific, then Becker Communications, and then I won the lottery and came here to Halekulani.
You work with some terrific chefs and you obviously love what you do.
I do. I think I have the greatest job in the world. In the day-to-day working at Halekulani and with The Parc and Nobu, I get to work with chefs who are the most fun, talented, creative group ever. It's a blast to be able to take their ideas and present them. Chefs are fascinating creatures!
Do you eat at Halekulani often?
I eat here every day! Back of house here we have La Mer kitchen, Orchids kitchen, in-room dining, a chocolate factory, a pastry shop, several banqueting kitchens ... Every time I walk or run through one of them, someone shouts, "Hey, Erika, try this!"
You're in fabulous shape. Do you work at it?
Yes. I say "no" a lot. I learned quickly what a tasting menu meant. The degustation menu at La Mer is nine courses. Writers love to do that, but it's nine courses!
Favorite dish at Halekulani?
Oh, too many to mention ... I love duck, so the duck and pear salad at Orchids is a favorite at lunch.
Do you cook at home?
I do. I get lots of ideas from the chefs, go to the store to buy all the ingredients and then get home exhausted and end up eating something like Special K! But I love to roast a simple chicken with butter and rosemary. And I always end my day with a glass of wine.
What's always in your fridge?
Organic milk, pomegranate-blueberry sparkling drink from Whole Foods, squash and tofu, wild blueberry jam and English muffins.
Any key people thus far in your career?
Gosh, yes. Ruth Ann Becker, Caroline Witherspoon, and my mother, who is a brilliant writer. And I have peers in the industry whom I call to brainstorm with regularly.
With whom would you most like to have dinner?
It's a tie between President Obama and the man who is going to be my husband. I haven't met him yet!
Most Recent Comment(s):