Gary Manago

By
.(JavaScript must be enabled to view this email address)
Friday - September 29, 2006
Share
|

Del.icio.us
|

Podcast
|
WineAndDineHawaii.com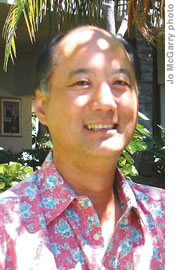 Gary Manago
Gary Manago is the food and beverage director at Hilton Hawaiian Village and a well-known personality in the food and beverage industry. He was raised to appreciate local style hospitality - the family owned Manago Hotel on the Big Island, famous for its pork chops, fresh fish and inexpensive rooms, was where he began working when he was young. His grandparents, Osame and Kinzo Manago, built the hotel in 1917 and it remains a favorite today with travelers who appreciate a true taste of old Hawaii - and a great meal at an unbelievable price. Today Gary oversees food and beverage needs at more than 20 dining outlets, including award-winning restaurants Bali by the Sea and Golden Dragon - the signature fine dining restaurants at Hilton Hawaiian Village.
Age: 51
Where did you go to school?
Punahou School, University of Hawaii at Manoa where I received bachelor's and master's degrees in education.
What started your interest in the F&B industry?
I was literally brought up in food and beverage. I began working at the Manago Hotel when I was young.
What was your first job in the industry after the Manago Hotel?
I worked as a busboy at the Top of Waikiki.
How have things changed with regard to service in the industry since you began?
Both customers and food-and-beverage employees have become much better educated. Customers have lots of knowledge about new ingredients, the nutritional value of food, food trends, wines and spirits, and cuisines in general. The well-informed customer today is usually well-traveled. Food service employees have to be knowledgeable about the dishes they are serving, but they also have to be able to tailor their service to give the customer service that exceeds expectations. Knowledge and adaptability is paramount to providing quality customer service.
Where's your favorite place to eat when you're not working?
Side Street Inn.
What's the most challenging thing about managing all of the dining outlets at the Village?
Finding the time to spend quality time in each of the outlets.
What's always in your fridge?
Orange juice.
Do you cook at home?
Yes. I make a pretty good Japanese-style shrimp curry.
With whom would you most like to have dinner, and where?
I would love to eat with my family and Alain Ducasse at his restaurant Alain Ducasse's Plaza Athenee Restaurant in Paris.
Who has been the biggest influence on your career?
My grandmother, Osame Manago, who taught me my work ethic, and Kenko "Joe" Kina, who opened up the world to me through our travels each summer while teaching at Kapiolani Community College.
How do you describe Bali to people who've never been?
Bali by the Sea is located in one of Waikiki's landmarks, the Rainbow Tower, overlooking Waikiki Beach. The service is warm, efficient and unobtrusive - a complement to the culinary artistry of Chef Adam Hightower and his team. The menu showcases the freshest ingredients from Hawaii, and incorporates the multicultural influences of the islands.
Most Recent Comment(s):