Jason Chong

By
.(JavaScript must be enabled to view this email address)
Friday - April 22, 2009
Share
|

Del.icio.us
|

Podcast
|
WineAndDineHawaii.com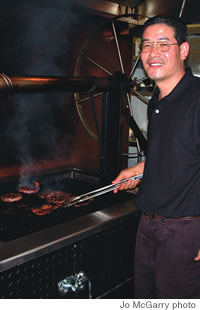 Job Title: Owner, Kiawe Grill Korean Barbecue
Where were you born and raised? I was born in Korea and came to Hawaii in 1976. I went to Washington Intermediate as a ninth-grader and then to McKinley High School.
What kind of food did you eat growing up? Korean food, mostly. But the really basic stuff, you know, like kim chee and rice.
What was your first job? When I was in college, I started working at The Three Coins Restaurant in Wahiawa - there's a Zippy's there now. My first job was as a dishwasher.
I first met you when you'd just opened up the first Kiawe Grill in Moiliili. How long ago was that? Eight years ago. Now we have three Kiawe Grills: the original one, one in Aiea and one in Kalihi. Hopefully, there's another one on the way next year.
Did you always want a career in the food and beverage business? Not really. I was in retail for a while after I graduated from college. One day I went to visit my good friend and he was grilling with kiawe wood, and I thought the taste was so good that if I could grill burgers that way ...
Your grill is almost as famous as your burgers. What's the story? This is an old grill that I knew I wanted to use to get the most from the kiawe wood - it's an old-style Korean grill. I found the first one by just searching and searching, and then I got lucky.
Where do you like to eat when you're not at work? We like G Sushi at Market City and anywhere there's good Japanese noodles.
Do you cook at home? Yes, I do, but more often my wife cooks. She makes a great Korean miso soup.
What's always in your fridge? Ice cream for our girls, and Korean rice cakes.
Anyone you'd really like to make a burger for? I'd like to meet Colt Brennan. He's been here a couple of times, but I never met him.
How do you relax? I used to play golf, but lately I've been doing a lot of yard work instead. It's not as stressful.
Most Recent Comment(s):