Jay Kam

By
.(JavaScript must be enabled to view this email address)
Friday - May 09, 2008
Share
|

Del.icio.us
|

Podcast
|
WineAndDineHawaii.com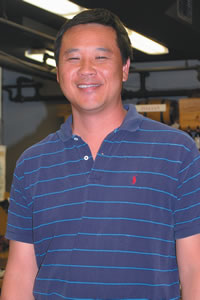 Age: 40
Title: President, Vintage Wine Cellar.
Your dad, Allen Kam, was a pioneer in bringing fine wines to Hawaii. Did you always want to follow in his footsteps?
(Laughs) No, not really. I got a degree in electrical engineering and then one in marketing. And then, when my dad was in need of a kidney transplant, I came back to Hawaii to help out with the business. Then I went to UH to get a law degree.
But after all that, the lure of the grape was stronger?
Well, I knew immediately I didn't want to be a lawyer! In the wine business, you see people when they're mostly happy and looking to celebrate - my friends in the law field see people when they're at their worst. Plus the perks are good in this business.
Where do you like to go to drink wine?
Mostly at home. We've two young boys and it's just easier and more relaxing to stay at home.
And you've probably a nicer wine cellar than most restaurants.
My dad left a great cellar with lots of older Bordeaux and Burgundy.
When do you drink them and how do you decide?
I never have anything prearranged. I mostly walk down to the cellar and see what I feel like.
Where do you like to eat?
My wife, Lillian, and I love 12th Avenue Grill; 3660 too, and I like Elua very much. And I like Pasta Basta in Restaurant Row because it's all Donato's fabulous recipes, but it's casual. And we do a lot of takeout from Olive Tree in Kahala.
With whom would you most like to have a glass of wine or two?
Dick Cheney and Charles Barkley. They're both quick-witted and I think it would be hilarious to hear them go back and forth.
Any wines you'd love to taste?
'74 Heitz (Cabernet Sauvignon) Martha's Vineyard, which I have, but haven't opened yet. I keep telling myself I better do it soon before it dies. And, of course, the legendary '47 Cheval Blanc.
Most Recent Comment(s):