Joshua Nudd

By
.(JavaScript must be enabled to view this email address)
Friday - July 23, 2005
Share
|

Del.icio.us
|

Podcast
|
WineAndDineHawaii.com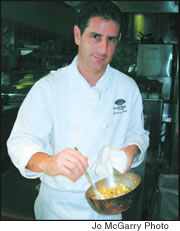 Title:
Chef de Cuisine, Hoku's Restaurant
Age:
32
First professional cooking job?
Morning pantry cook at the Peninsula Beverly Hills. Worked my way up to chef de cuisine. I spent eight years in the hotel.
Who has influenced you most in your cooking career?
Executive Chef Bill Bracken of the Peninsula Beverly Hills.
Favorite dish at your own restaurant?
Warm Lobster and Avocado Melt, Roasted Chili Pepper Aioli, Spanish Manchego Cheese, Maui Onion Shooter.
Favorite dish at another Hawaii restaurant?
Irifune's Tofu Gyoza!
What's always in your fridge?
Takeout leftovers and fresh apples.
Favorite late night snack?
I love to eat soups and saimin!
For whom would you most like to cook dinner?
I wish I could cook dinner for my grandmothers. I was able to do it individually, but not together. One grandmother has passed on. They are, and were both excellent cooks and bakers. I can still smell the wonderful aromas coming from their kitchens.
What ingredient can you not live without?
Yuzu juice. When I discovered it several years ago in Los Angeles I fell in love with it and will continue to use it as much as possible.
How would you describe your cooking?
I strive to keep my food consistent (well-seasoned, proportionate — hot or cold), with simple construction or simple artistic arrangements that are visually pleasing to the eye and always fresh, fresh, fresh. I collaborate with Chef Wayne and my team to keep our food as different as possible from the others in town.
Describe your restaurant to someone who hasn't been there before.
California cuisine meets Hawaiian Pacific Regional. I utilize the freshest local ingredients while incorporating modern methods, techniques and originality.
Most Recent Comment(s):
Commenting is not available in this weblog entry.