Kevin Matsuda

By
.(JavaScript must be enabled to view this email address)
Friday - June 15, 2007
Share
|

Del.icio.us
|

Podcast
|
WineAndDineHawaii.com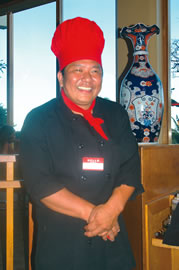 Kevin Matsuda
Kevin Matsuda is a teppanyaki chef at Musashi Japanese restaurant in the Hyatt Regency Resort and Spa in Waikiki. Enthusiastic diners often call to make sure he's working before making a reservation. He incorporates magic as part of his teppanyaki show, but insists it's the food that keeps regular customers coming back.
Where were you born and raised?
Waipahu.
First job in the industry?
I started working at Zippy's in Waipahu, and then I worked a variety of other places, starting as a dishwasher and then a pantry cook, fry cook, breakfast cook. I worked my way up the ladder.
How did you begin the teppanyaki route?
When I got to the kitchen at Musashi, you know, the Japanese chefs can be really strict and quiet, and I'm kinda noisy (laughs), so someone suggested I might be better working outside the kitchen with the customers.
How long does it take to learn teppanyaki skills?
It's really a long apprenticeship. I was trained for five years by Chef Sugiyama. It was a really tough training, but I think the harder the training the better you are. You have to practice for six months before you can even come out and cook for people - and then you have to develop your own show.
How did the magic part of your show begin?
I started learning tricks because my sister had been doing magic at meal times at home, and I figured that everybody does the (teppanyaki) knife shows, but no one does magic. We started it so that it never gets boring for people - and they can always come back and see something new.
Where do you like to eat when you're not at work?
Shige's Saimin in Wahiawa.
Who would you most like to see at your teppanyaki station for dinner?
June Jones and the UH coaches. That would be really exciting. I'm a huge UH fan, and I think what Coach Jones has done is amazing. I can't wait for this year's football season to start.
Any advice for someone wanting to get into your field?
Practice, practice, practice. If you practice hard then even if you mess up you can always cover it and go on with the show.
You always seem to have a sunny, positive personality. Are you like that all the time?
Always. (laughs). You gotta be when you're in this industry. People don't want to come out and see someone who's not in a good mood! And our regulars come for the food, but they also come for a great time and good laughs - it's easy to stay upbeat for them.
Most Recent Comment(s):