Lucy Lau

By
.(JavaScript must be enabled to view this email address)
Friday - May 26, 2010
Share
|

Del.icio.us
|

Podcast
|
WineAndDineHawaii.com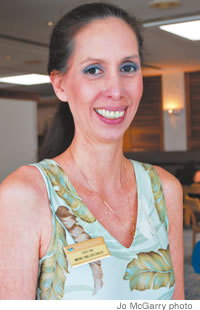 Age: 44
Job Title: Marketing Coordinator, Hale Koa Hotel.
Where were you born and raised? I was raised in Honolulu near Punahou and St. Louis Heights.
What sparked your interest in food and beverage? I was a Polynesian/hula dancer on the Windjammer Cruises. I started in November 1988. I had just returned from a two-and-a-half-month dancing contract in Japan and needed a job. I thought it would be fun to work at a hotel. My first job was as a cashier in the Hale Koa Room.
Favorite dining options at Hale Koa? My ultimate favorite was always the Hale Koa Room - I loved the chocolate soufflé! However, with its closure and the change in tide, I would have to say Koko Café is now my favorite. The food is local and family-style. It's real comfort food, and the burgers are awesome.
How about when you're not working? For fine dining, we like 3660 or Roy's. Otherwise it's Rainbow, Grace's and Outback.
Do you cook at home? I cook as little as possible. My husband is a great cook so I let him cook as much as possible. Recently he has been teaching our daughter, and now she likes to cook, too!
Favorite kitchen gadget? I don't really have one. I try to stay out of there!
What's always in your fridge? Other than milk and Pog, it's got to be ice cream.
Favorite movies? I am a Harry Potter and Johnny Depp fan, so those are the movies I can watch over and over. And I love the Disney classics. Sleeping Beauty is my all-time Disney favorite.
Who has been a mentor to you, if anyone, and why? I think there have been many: my mom for her drive, determination and commitment to being a single parent; my husband, Gregg, as he softened me and made me look outside of the box; the management throughout the years at Hale Koa; and my kumu Vicky Holt Takamine. She has shared many things that have helped me excel in life and my career.
Anyone you'd like to see come to Hale Koa for dinner? My dad. I don't know him, as he and my mom were not together. I would want him to see what I do and how I live. He lives in Hilo, so maybe one day.
Best thing about working at Hale Koa? The people. The Hale Koa is really like family. I have many great friends here - so many of my co-workers are like brothers and sisters. I think that helps us work well together.
I've heard that because Hale Koa has so many return guests each year, some of them become like family too. The people who stay here are incredible. The relationships we have made over the years are too many to count. When I gave birth, the congratulations and cards came for an entire year. Many of our guests come back annually and stop by to see how the kids are growing and how my family is. There are a few who I am very close to - we even have dinner or lunch while they are in town.
Most Recent Comment(s):