Randal Ishizu

By
.(JavaScript must be enabled to view this email address)
Friday - March 24, 2006
Share
|

Del.icio.us
|

Podcast
|
WineAndDineHawaii.com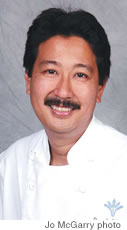 Randal Ishizu
Randal Ishizu is the executive chef at the JW Marriott Ihilani Resort and Spa. He represents a large group of island chefs who graduated locally and began their illustrious careers in local restaurants. If you can't make it out to Ihilani anytime soon, then you can taste Randal's food right here in town - he'll be one of the featured guest chefs at this weekend's Foodbank fundraiser at Restaurant Row.
Age: 40.
Where did you go to school?
Moanalua High School and then Leeward Community College.
What started your interest in cooking?
I would watch and help my mother and grandmother do some cooking.
First professional position?
My first restaurant job was at Zippy's. I worked as a dishwasher.
Who has influenced you most so far in your career?
I'd have to say Alan Wong. He has such a passion for this business and he has a love of great food.
Favorite dish at your own restaurant?
Ahi Fry with Miso Vinaigrette.
Where do you go to eat when you have free time?
Champa Thai.
Favorite dish there?
I always have a curry and the house salad.
What's always in your fridge?
Milk! My kids love milk.
Favorite late night snack?
Oreo cookies and ... milk.
How do you describe the restaurant to people who have never been?
The JW Marriott Ihilani is a beautiful and magical place. It's like taking a trip to a Neighbor Island. Each restaurant is a little different, and they all have something that suits almost everyone. We offer everything from open-air dining at Naupaka, to Japanese cuisine in Ushio Tei, to quiet and intimate dining in Azul. There are so many options for guests.
Who would you most like to host at dinner in your restaurant, and why?
My grandmother. She never got to try any of my cooking.
Best part of your job?
The creative part - working with our cooks to produce dishes that just "wow" our guests.
Most Recent Comment(s):