Robbyn Shim

By
.(JavaScript must be enabled to view this email address)
Friday - October 28, 2009
Share
|

Del.icio.us
|

Podcast
|
WineAndDineHawaii.com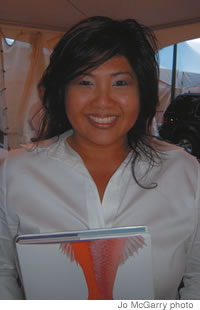 Job Title: Executive Assistant to Roy Yamaguchi
Where were you born and raised? Aina Haina
Where did you go to school? Kalani High School and Chaminade University of Honolulu
What got you interested in the F&B world? Iwas going to school and needed to work in an industry that worked best with school hours.
First job in the industry? Beachside Café/Ship's Tavern at the Moana Surfrider.
Working for Roy Yamaguchi is one of the more exciting restaurant jobs, I'd imagine. It really is. Roy is someone who cares about people, and through him I've been able to meet and work with people from around the world. It wasn't what I planned to do, but sometimes the best things that happen in life are the most unexpected!
There have been so many fundraisers and events at Roy's over the past 20 years. Any memorable moments? Planning Roy's 20th anniversary was extremely memorable. Roy invited chefs he's known over the past 20 or more years. They've participated in some of the most prestigious events across the country and around the world, and it was important that Roy and the state of Hawaii be well-represented.
Anyone leave a lasting impression? I've had the privilege of meeting some of the finest chefs, from Charlie Trotter to Iron Chef Hiroyuki Sakai. Two of the chefs who have greatly inspired me are Chef Tetsuya Wakuda of Tetsuya's in Australia and Chef Alessandro Stratta of Alex and Stratta at the Wynn Las Vegas. I first met them while planning Roy's 15th anniversary event. What they reinforced in me is that while awards and accolades are wonderful, it is the depth of your character that truly separates you and elevates you to a higher level.
Do you cook? Have you picked up any tips from the chefs? I enjoy cooking, but I don't have a lot of time to do it. My favorite thing to make for dinner is a reservation.
What's always in your fridge? Eggs, Almond Breeze, OJ, fruit, Nalo greens, cheese and St. Dalfour jam.
Favorite dish on the menu at Roy's? I get asked this question all the time! Roy's original blackened ahi with spicy sesame beurre blanc is my all-time favorite.
Favorite restaurants when not working? Hiroshi Eurasion Tapas, Nobu Waikiki and Imanas Tei.
What would surprise people most about you? I was an ukulele instructor for Roy Sakuma Ukulele Studios and I come from farming/ranching roots.
With whom would you most like to have dinner at Roy's? My grandparents - all of them have passed.
Best part of your job? Besides being involved in the restaurants and helping different charities and organizations, I work with some of the greatest people on earth.
Most Recent Comment(s):