Vicky Tanabe

By
.(JavaScript must be enabled to view this email address)
Friday - December 30, 2005
Share
|

Del.icio.us
|

Podcast
|
WineAndDineHawaii.com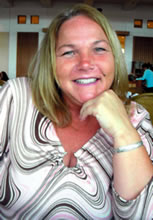 Vicky Tanabe
Vicky Tanabe is well-known (and well-loved) in the food and beverage industry. Her job at Pint Size requires her to be in the company of Haagen-Dazs ice cream daily. No mean challenge for most of us. Here she talks about working with cute chefs, her favorite food event and a New Year's resolution she hopes to achieve.
How long have you been in the food industry?
Over 20 years.
How did you get started?
Bartending at a rock 'n' roll joint at the age of 17 in Naples, Fla.
What does your job involve at Pint Size?
Sales, account maintenance, outstanding customer service - and a bit of marketing.
What's the best part of it?
Working with all of the cute chefs in town and some not-so-shabby purchasers!
The worst?
The day-to-day pressure of sales. I want to always be No. 1 and I always want my accounts to be No. 1, so I push myself to maintain that position.
Favorite restaurants in Hawaii, and why?
I'm very loyal, so any restaurants that use Haagen-Dazs, Dreyers or Blue Bunny ice cream. And with those products, I always know that I will get a great dessert!
How hard is it to resist eating Haagen-Dazs every day?
Well, let's just say that with all of the calcium that comes from milk, I have great bones!
What's always in your fridge?
Haagen-Dazs, naturally, and for some reason I always think I am out of butter, so I buy more ...
Favorite late night snack?
C'mon ... you're kidding, right?
Who'd you most like to have dinner with ( and why)?
I like to eat and laugh, so maybe Mike Myers or Will Ferrell. But if I can't have them, then close friends and several great bottles of wine!
Who has influenced you most in your life so far?
My parents were huge in my life. My mom has passed away and my dad is still with us. I also had some great teachers in my life, ones I remember even to this day.
Of all the food events you attend each year, which one would you recommend to everyone?
I love the Taste of the Stars at Windward Community College. I also love the Hale Ainas. But I do recommend that in Honolulu anytime you hear of any food event, go. They are always a great experience.
How about a resolution for this coming year?
Live life. You know, really live it!
Most Recent Comment(s):