A Cool Refrigerator Inside And Out

By
.(JavaScript must be enabled to view this email address)
January 30, 2008
|
Share

Del.icio.us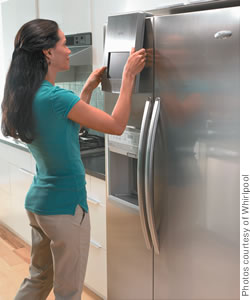 Looking back about a year ago when I bought my house, I wish I had the opportunity to buy a Whirlpool centralparkTM connection (model GD5VVAXT). At the recent 2008 Consumer Electronics Show (CES), this wonderful refrigerator was an honoree for the CES Innovations 2008 Design and Engineering Award.
The kitchen is probably the central location in your home. It's where the food is stored, and typically where everyone gathers to eat. According to a Whirlpool survey, more than 30 percent of laptop computer, digital photo frame and digital music player owners currently use their devices in the kitchen. Based on that school of thought, Whirlpool designed the centralparkTM connection with a plug-and-play platform so you can interchange your gadgets right there on the refrigerator door.
"We are proud to be back at the 2008 Consumer Electronics Show with a diverse grocery list of new, soon-to-market partners," said Phil Pejovich, vice president of Whirlpool Refrigeration, North America. "Depending on each family's needs, there is a centralparkTM connection device to help every Whirlpool brand consumer accomplish more with his or her day - from keeping photo displays fresh to organizing family activities."
Currently, you can add on a CEIVA Digital Photo Frame for $249. It's Wi-Fi ready and features an 8-inch high-resolution LCD screen and a builtin card reader. With its on-screen menus, the frame is easy to use and capable of receiving photos wirelessly via camera phone or through your online CEIVA account. This is a nice touch, so you don't have photos spread messily all over your fridge.
Other concepts I saw at CES (not available yet) are Brandmotion's iPod Speaker System, Cozi Family Organizational Software, Clio Vu web tablet and the Quartet Qnote Message Center. A breakdown on each:
Brandmotion iPod Speaker System: This docking station is specifically designed for use in the kitchen with four large membrane-type buttons for easy use and cleanup. It's manufactured to securely hold and charge any size iPod while withstanding the frequent opening and closing of your freezer door.
Cozi Family Organizational Software: It's a free software and web service that helps families manage their busy schedules, create shopping and to-do lists, organize chores, etc. When used with central-parkTM, items can easily be added to the shopping list and received as a text message on your cell phone while you're away from home, and more.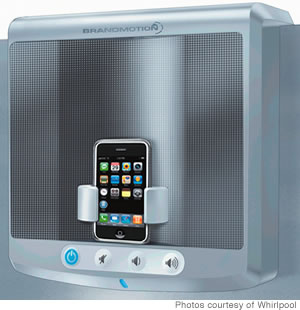 Clio Vu by Data Evolution: A convertible tablet computer utilizing the Clio's award-winning 180-degree SwingTop design. This helps you clear your fridge of sticky notes, and you can use it via touch-screen, keypad or with a handwriting device. With its Wi-Fi capability, you can look up recipes online or watch movies.
Quartet Qnote Message Center by Acco Brands: Dry-erase writing surface with ambient surface illumination, along with a digital clock, date/timer and a sliding storage drawer to hold your take-out menus, etc.
It's too bad I don't need a second refrigerator, because after seeing the Whirlpool central-parkTM and its attachments, I would definitely buy it. You can find the centralparkTM and the CEVIA Digital Photo Frame at your nearest Best Buy (www.bestbuy.com) for $2,000. Visit www.whirlpool.com/centralpark for updates on how much and when the additional devices will be available.
Most Recent Comment(s):