A Fun-sized All-in-one Best Friend

By
.(JavaScript must be enabled to view this email address)
March 26, 2005
|
Share

Del.icio.us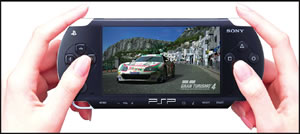 Sony PSP, A Girl's Best Friend. What more could a girl ask for — music, movies and video games in an all-inone device that can fit into my purse. I couldn't dream of anything better than this Sony PlayStation Portable (PSP) that came out this week. It's definitely more than just a game machine.
The PSP, also known as the "21st Century Walkman," has a 4.3-inch LCD screen and can be used to listen to music, watch movies and best of all, play games with its ultra-compact size. It uses Sony's new proprietary Universal Media Disc (UMD), which is only 60mm and has 1.8GB of storage space. The first release of UMD movies on April 19 include Spider-Man 2, Hellboy, Resident Evil 2, House of Flying Daggers and Once Upon a Time In Mexico. There are also around 100 game titles available for the Sony PSP.
If you're into multi-player game play, as I am, you can play via wireless Internet through your LAN or a Hotspot. The only drawback with using a Hotspot is that if you need to access it with a webpage, it will not work. You can also play wirelessly in the ad-hoc mode, which allows you to hook up to 15 other PSPs in your vicinity. In addition, you can transfer software and other data wirelessly and store it onto a Memory Stick Duo.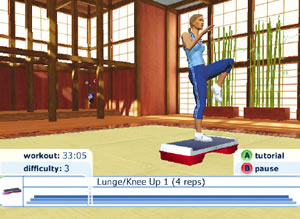 The average retail price of the PSP is $250 and it's available at either of the Toys N' Joys locations (Kaimuki: 735-4546 or Pearl City: 487- 8697) or at www.toysnjoys.com. You can also find it at one of the three Toyriffic stores (Waialae: 739-9677, Kapolei Shopping Center: 674-0880 or Mililani Town Center: 627-0077).
If you want one, make sure you call the retailers ahead of time. PSP's are in great demand and short supply, and there may be long wait lists. This game girl can't wait to get her hands on one — I've been waiting over a year for it to come out!
A Virtual Workout. When I'm not in front of my computer playing games or surfing the Internet, I enjoy working out at the gym or going for a long run and doing some pushups. You see, after playing three or maybe even four hours of Halo 2, I start to feel a little guilty and have to loosen those muscles with a workout.
I found the perfect marriage of the two with my lifestyle. It's called Yourself!Fitness — a workout you can play off your Xbox, PlayStation 2 or PC.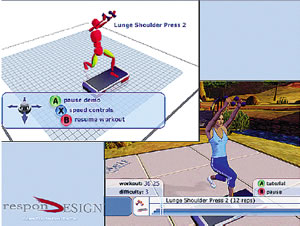 This represents a new genre in the gaming industry as the first game title created solely to improve the health and fitness of the user, instead of just giving your fingers a workout.
Yourself!Fitness brings the expertise of a personal trainer into your home. When you "make the commitment to yourself," you build the fitness program that's right for you along with Maya, the Yourself!Fitness personal trainer. She will help keep you motivated and assist you with achieving the results you want.
No two workouts are the same, and Maya builds the routine based on your progress and commitment level using 500 different exercises. The different training sessions feature yoga, Pilates, cardio fitness, strength training, flexibility exercises and targeted weight loss routines. As far as fitness equipment, Maya will integrate what you may already own into the workout, so buying extra gear is optional. Meal planning is also an option with the program.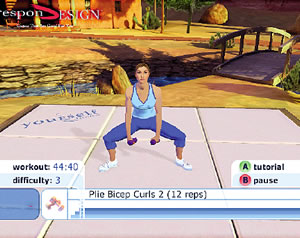 Highly recommended by Shape and Women's Fitness magazines, Yourself!Fitness sells for $34.99 for the PlayStation 2 and Xbox, and $29.99 for the PC version at www.yourselffitness.com. This is a good exercise alternative if you don't have a gym membership, and a great deal for a personal trainer. With a positive attitude and good self motivation, you too can get into shape with Maya.
.(JavaScript must be enabled to view this email address)
Most Recent Comment(s):
Commenting is not available in this weblog entry.