Be A Star With SingStar Rocks!

By
.(JavaScript must be enabled to view this email address)
December 08, 2006
|
Share

Del.icio.us
I love music - listening to it, singing along to it in the car when I'm by myself, you name it. Despite that, I make no claim to be any great singer. In contrast, if he wanted to, my husband could have easily made a career with his wonderful voice. He's no stranger to the stage, singing in bands during college, and was a Concert Glee Club member at his alma mater, Kamehameha Schools. He's not shy when it comes to karaoke or singing along to songs when we're out in public. The difference between his voice and my voice is that he actually sounds good.
While we were at the Electronic Entertainment Expo (E3) this year, we saw a game called SingStar Rocks! on display in the Sony section. As expected, the husband decided to try it out, and he naturally sounded good. It was one of his favorite games at E3 and he couldn't wait for it to come out.
Well, SingStar Rocks! finally hit the store shelves a couple of weeks ago, just in time for Christmas and the star wannabe in your life.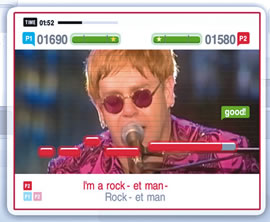 This game genre from Sony is new to us American gamers, but Sony's karaoke series has been well-known in Europe for about two years now. SingStar Rocks!, developed by Sony Computer Entertainment Europe's London Studio, lets you live the rock star dream in the comfort of your own home exclusively with your PlayStation 2 (or PlayStation 3). Its sophisticated, yet simple-touse interface features 30 real songs from yesterday and today (with actual music videos from the original artists). Just to name a few: Elton John/Rocket Man, Gwen Stefani/Cool, Aretha Franklin/Respect, Lynyrd Skynyrd/Sweet Home Alabama, B52/Love Shack and Blur/Song 2.
SingStar Rocks! is perfect for parties, being the next generation singing game that it is. Unlike any other singing game on the market, this game analyzes your vocal skills, based on your pitch, tone and rhythm, and provides feedback based on how well or badly you sang. How you play it is up to you. Have it all to yourself as a one-singer gig, if embarrassed to let others hear you, or have up to eight players competing.
To gauge how you're doing, just pay attention to the colors and the performance meter at the top of the screen. If you see red, your singing is really awful. Yellow is all right and green is perfect. I guess I didn't do too bad the first time since I saw yellows and greens the whole way (with no reds, thankfully). Of course, I had it set on the Easy mode while singing I Will Survive by Gloria Gaynor. You have the choice to set it on Easy, Medium or Hard. Different gameplay modes include Solo, Freestyle, Pass The Mic, Battle or Duet. Whichever you choose, you'll be laughing at yourself and others. Battle Mode enables two players to challenge each other and sing for the highest scores, while the Duet Mode calls for two players to each sing one vocal part of a duet, then combines their scores for a total. The Pass The Mic is a team mode where you perform a variety of different singing challenges - solo rounds, combined duets, medleys and surprised singer selections to ensure that everyone at your party has a chance to sing. This is definitely a good icebreaker at any party. Additionally, if you have an EyeToy camera you put yourself in the music videos, record your favorite performances (onto your Memory Card) and snap photos of yourself singing in place of the artist. You can also customize and enhance the playbacks with numerous audio effects.
SingStar Rocks! is rated E10+ for Everyone ages 10 and up, and is about $50 at your nearest CompUSA (www.compusa.com), GameSpot (www.gamespot.com) or Wal-Mart (www.walmart.com). The game also comes with two microphones with a USB converter. The SingStar Rocks! website is fairly comprehensive if you want to find out more details about this game: www.us.playstation.com (click on the SingStar Rocks! official game site link). There you can see various screen shots and videos from the game, and you can send out invitations via e-mail for all your future SingStar parties (up to 10 invites). I thought that was a neat service to offer. Look for more SingStar additions in early 2007.
Most Recent Comment(s):