Focusing On Gorilla Pod Fun

By
.(JavaScript must be enabled to view this email address)
March 03, 2006
|
Share

Del.icio.us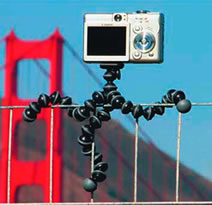 Gorilla Pod
I find it difficult to go anywhere without my trusty camera. I'm one of those people who is always trying to take pictures of myself along with my friends/family by finding the perfect place to position the camera. I've done just about anything from balancing my camera on a pile of books, clothes, on the car, between rocks or in a tree.
I discovered the neatest tripod that still lets me do all my fanatical cropping, but just a little easier and without the fear that my camera will fall.
The Gorilla Pod, made by Joby, is the answer to my crazy camera habits. If I had to take an educated guess, they probably named this neat little invention after the fact that it will do almost anything by clinging and hanging, as a gorilla would, to take your perfect pictures. It looks like something that came out of a scifi movie, yet it's tailored specifically for compact digital cameras with its built-in removable slim-line attachment. The little doohickey stays in your camera (screwed into the bottom) to allow for nearly instant setup each time you use your Gorilla Pod.
The flexible joints of the Gorilla Pod rotate 360 degrees to form your perfect camera angle. Its ring and foot grips provide extra gripping power for most surfaces, so it's fairly difficult for it to slip around and fall while you have it propped somewhere. Most importantly, the lock ring right below the attachment provides extra security for your camera to ensure that it is absolutely attached to your Gorilla Pod.
Weighing in at only 1.6 ounces and approximately 6 inches long, it is definitely not your traditional tripod. This is something you can have fun with since it's so portable and lightweight. It also doesn't require an elevated or
flat surface, so it's really an anytime, anywhere and everywhere addition to your camera. It has already significantly helped me with all my nighttime open shutter pictures that I love to frame. Previously I would always have a difficult time finding a place to put the camera, and I do not enjoy lugging around my tripod. Even the standard compact tripod isn't all that portable. Now my picture-taking power is infinite!
Discover more about the Gorilla Pod for yourself at www.gorillapod.com. It is $23.95 for the unpackaged version or $26.95 for the nicely packaged version.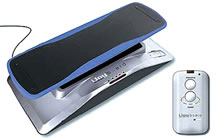 iJoy Board
Surfing, Snowboarding And Skateboarding At Your Heels. Living in our island climate and environment, most of us probably enjoy surfing and skate-boarding. It's mostly free except for the cost of the boards and minor peripheral equipment you may need to purchase. There are also those of us who use all our vacation time and blow our money on snowboarding every winter season, sometimes several times during the season (biggest example of that being my brother). For those of you crazy enough to go snow-boarding every year, you may not always have the money to make the trek across the ocean, so you're stuck at home. What to do, what to do?
If you don't mind stationary snowboarding (or surfing/skating), the new iJoy Board, made by Interhealth, could be an alternative for you, rain or shine. It is a motorized "balance trainer" and it is designed to give you the alternative to boarding fun, whether you're a surfer, skater or a snowboarder. It is definitely more creative than any piece of fitness equipment you'll find out there, and it will help to keep your legs toned, strong and ready to take on the slopes, catch a wave or grind a rail when you can't do the real thing. Even if you're not a boarder of any sort, and you just want some good exercise, the iJoy Board will give you a good workout.
The board has three speeds (slow, medium and fast) at which you can test your skills. It comes with a battery-operated IR remote control to make it easier for you to utilize, but there is also automatic shutoff after 15 minutes of activity. It also gives you the option of using the preprogrammed routine that gives you 15 minutes of challenging action at an unpredictable mix of speeds.
The iJoy Board has a nonslip platform so you can maintain a solid board stance while increasing your core balance and coordination skills. It is also fairly portable, weighing in at around 50 pounds, so you can set it right up in front of the television and tuck it back under the bed when you're finished. I realize that this motorized board is not the same thing as experiencing a big wave, fresh powdery slopes or a jump in the half-pipe, but its simulations are close and should keep you somewhat satisfied till you can make it out there. If anything, your boarding muscles will stay sculpted and toned, and you'll be in shape and ready for the real thing.
Excellent for all ages, explore an iJoy Board for yourself for $399.95 at www.interhealth.com or Sharper Image (or the online store at www.sharperimage.com). Admittedly it's a bit pricey, but think of the fun it will be, not to mention the saved money on a plane ticket to the slopes.
Most Recent Comment(s):