Portable Wi-Fi With MiFi 2200

By
.(JavaScript must be enabled to view this email address)
June 03, 2009
|
Share

Del.icio.us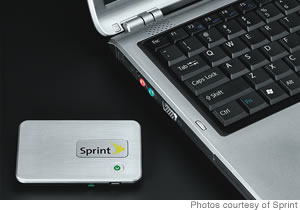 If you need to stay connected, as I do, having access to an Internet connection is a No. 1 priority. You can probably find a hotspot in your hotel, the nearest coffee shop or at the airport, but isn't it more convenient if you can just carry a hotspot with you?
The MiFi 2200, just released by Sprint and Verizon Wireless, offers you the ability to carry a hotspot in your purse or pocket.
The two MiFi 2200s are almost identical, but Verizon's is black and Sprint's is silver. You might be wondering what makes this so special in comparison to a USB data card or a builtin laptop modem. The most significant difference is that MiFi can be shared with up to five devices simultaneously (including computers and Wi-Fi-enabled toys, i.e. an iPhone or your portable game machine). Having that USB device tethered to your computer (as I've been using before this) can sometimes be a pain, especially since you don't want it to snag on anything as you move around.
"You can hold the MiFi 2200 in the palm of your hand, slip it in your pocket, even place it on a beach towel if you're lying under the sun, and wireless-ly connect your laptop, MP3 player and gaming device to the Internet all at once," says Steve Elfman, Sprint president of network, wholesale and product. "Now customers will be able to use one mobile broadband device - the MiFi 2200 - to connect multiple personal devices or multiple users. If I have a Wi-Fi-enabled device, I don't need to find a Wi-Fi hotspot. The MiFi 2200 creates one for me."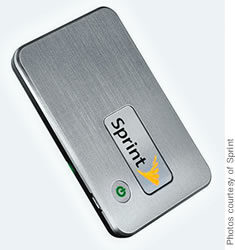 The MiFi is tiny enough to hide in a shirt pocket, measuring in at 3.5-by-2.3-by-0.4 inches and weighing only 2.05 ounces. Both companies say that, on a single charge, the battery will last about four hours when it's actively in-use and 40 hours when it's on standby. But depending on how many devices you have connected to it, your battery probably won't last you the entire four hours. The good news is that you can use it while it's charging, too. A complete charge takes about two-and-a-half hours. Other features MiFi offers are advanced security through WPA2-PSK, WEP and SPI Firewall, and GPS capabilities to take advantage of select location and mapping applications, such as obtaining driving or walking directions, or finding the best nearby restaurant.
Both Sprint and Verizon Wireless are offering the MiFi 2200 for $99.99 after a $50 mail-in rebate. Sprint is offering a $59.99 per month plan for mobile broadband only, and $149.99 per month for the Simply Everything Plan plus Mobile Broadband (both include up to 5GB per month and 5 cents per megabyte over-age for the MiFi 2200 usage). Visit your nearest Sprint Store or www.sprint.com for more information.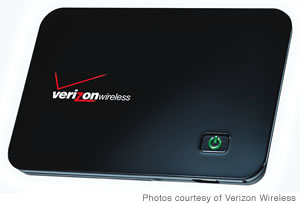 Verizon Wireless' plans are slightly different at $39.99 for 250MB monthly allowance (and 10 cents per megabyte overage), and $59.99 monthly access for 5GB monthly allowance (and 5 cents per megabyte overage). Check out your nearest Verizon Wireless Communications Store or www.verizonwireless.com.
Either way, the MiFi device is the same, but it's up to you which plan you'd want to take on.
Correction for the UH's Award-winning Mouse, Alfalfa story published on May 20: The winning time for Alfalfa was one minute and 11.29 seconds. The original story stated Alfalfa's finish time as one hour, 11 minutes and 29 seconds.
Most Recent Comment(s):