The Wireless Way To Go

By
.(JavaScript must be enabled to view this email address)
September 02, 2005
|
Share

Del.icio.us
When I'm using my computer, I enjoy the convenience of a wireless keyboard and mouse. I don't like cords in my way, especially with the mouse when trying to accurately and quickly acquire my target on whatever video game I'm playing. You can just call me the wireless queen.
Companies that make peripherals seemingly come out with a new wireless keyboard/mouse combo every day, but I was intrigued to discover Logitech's latest creation since it comes with a remote control. The Logitech Cordless Desktop S 510 Media Remote is the first desktop combo to come with a remote control. Each component of it is designed to match the sleek look of your LCD flat screen monitor. Using the remote control, and sitting up to 16 feet away, you can navigate through your computer's photos, listen to your music or perform other common tasks such as software navigation. It also includes a battery level indicator, programmable preset buttons and a shuffle key for your music. Using it is as familiar as your television's remote.
The whole keyboard/mouse/remote control trio runs best with Logitech's MediaLife software, which provides quick access to all your photos, music and videos in a single intuitive interface. The Zero-Degree Tilt keyboard gives your wrists comfort with its built-in palm rest. The integrated one-touch keyboard controls incorporate random music play, quick image zooming and image rotation. You can also program the F-keys to quick launch applications with a single touch. The LX5 cordless optical mouse responds quickly to your touch, and you can scroll vertically or horizontally.
Battery power in your keyboard and mouse will last you an average of six months, perhaps longer if you conserve its power. The keyboard and mouse both have LED battery level indicators, and the flashing display gives you about 10 days' notice before the batteries need to be replaced. Four AAA and two AA batteries total are needed to power the trio. The S 510 talks to your computer via a USB mini-receiver and comes with a five-year limited warranty. It is only available for PC/Windows XP.
Unfortunately, you won't find the S 510 on store shelves yet, but when it does come out, the retail price will be $99.99. Since there is no official release date yet, go to www.logitech.com, and you can submit your name and e-mail for a product launch notification.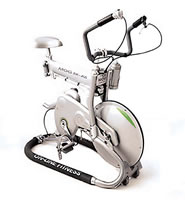 You can play games while you work
out on the NeXfit BK-A6
Exercise Gaming. If I happen to be at the gym on a cardio day, and don't feel up to running on the treadmill, I will reluctantly jump on the exercise bike. I usually don't like the bike because it's so boring to just sit there, stare at the wall and pedal. I'll look over my shoulder and see people reading magazines or books, wishing I had something to read, too.
There's a new exercise bike that I hope my gym will acquire. NeXfit makes fitness equipment that allows you to enjoy your exercise workout and favorite game at the same time. You can play your games complete with Internet chat and the ability to link with other NeXfit users. During your workout, you can also continuously access your health condition using the bike's fitness software. You can also set up the coach feature, which helps you achieve the goals you set.
NeXfit has two fitness bikes available, the BK-A6 and the BK-R3. They are both made with a super light aluminum frame and resemble an average fitness bike while combining the benefits of a traditional cardio workout and computer gaming. This whole concept essentially turns fitness equipment into a game simulator. You can play just about any PC game you want, but the racing games probably function the best. Both bikes hook up to a PC using a USB connection and the pedals can be mapped to the joystick's Xand Y-axis to perform left-to-right and throttle control. On the right handle, a small thumb stick provides mouse control to get you through the game's menus, and four buttons let you access common game functions.
The BK-A6 features force feedback sensors built into the bike to simulate crashes, changes in terrain or whatever the game's situation is. The feedback sensors are located in the pedals and seat. In addition an air compressor is used to simulate the uphill and downhill changes in terrain. The handlebars serve as the steering mechanism and swivel left to right. The BK-R3 uses a magnetic field resistance system for the flywheel vs. the air compression on the BK-A6.
The whole fitness-game system works fairly well and certainly turns a boring bike work-out into fun interactive entertainment. Your workouts will whiz by as the majority of your attention is shifted to the video game instead of the workout. NeXfit fit will soon release more versions of its bikes to be compatible with Xbox and PlayStation 2, which should improve game variety and will be easier to hook up to a television.
NeXfit's bikes are available at www.nexfit.com. The BK-A6 is about $2,500 and the BK-R3 is around $1,900.
Most Recent Comment(s):