A Simple Fix For UH Budget Woes

By
.(JavaScript must be enabled to view this email address)
Friday - March 11, 2009
|
Share

Del.icio.us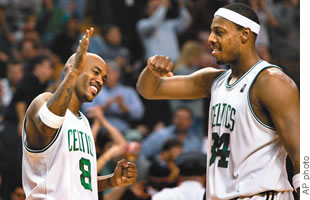 Stephon Marbury with new teammate Paul Pierce
We've visited the budget deficit for the University of Hawaii athletic department ad nauseum in the recent past. Sometimes the simplest solutions are the best.
Here's the way out of the financial mess: The operating deficit will apparently be about $3 million this year, added to the $5.4 million or so from previous years. Beginning in the fall of 2009, charge every undergraduate $100 per semester for an athletic activities fee. This will entitle every student to free admission to every UH athletic event on a first-come, first-served basis. At roughly 20,000 undergrads, this will generate $4 million per year, paying off the operating deficit and producing a $1 million surplus that can be applied to previous debt.
Not only will more students get involved in attending athletic events, providing a social interaction with their peers, but the national exposure for the university will ultimately increase the value of their degrees. UH athletics will not only be shortly out of debt, but it will have larger crowds and a better home-court advantage.
All this will take is for the administration and the Board of Regents to exert their proper authority and impose the fee, removing the issue from the lunacy of a student vote. That would bring UH in line with the rest of the WAC, whose schools impose some version of an athletic activity fee - and we can all eliminate any further talk about dropping sports or moving down to a lower level of competition.

New York Knicks executives breathed a sigh of relief when they finally concluded a buy-out agreement with Stephon Marbury. It didn't save them all that much money - Marbury got most of the $21 million salary - but at least they didn't have to see him around or catch his photo in the New York papers, a glaring reminder of a horrible personnel decision and a monumental waste of team resources.
While Marbury has long been considered one of the league's explosive offensive threats, he is a player who needs the ball in his hands and needs to put up a lot of shots. Every team he's been on gets better after he leaves.
Not too unlike the situation with Allen Iverson. AI was a big star in Philly; when he left, they got better. He went to Denver, where he scored a bunch, but the team went nowhere. The Nuggets shipped AI to Detroit, and Denver got better right away. Detroit lost eight straight with Iverson. Last week he got hurt and missed two games, and the Pistons won both of them. Now they're talking about using AI in a reserve role, and who could blame them?
Now the Celtics have signed Marbury, believing he's been humbled by the New York experience and will fit in with his Boston teammates, and that his desire to be part of a championship team will keep his ego in check. Maybe he'll be able to accept that the Celtics have three stars already and only require him to be a good soldier off the bench.
It could work for a short time, but don't expect to see Marbury wearing the green next season.
Most Recent Comment(s):