Grim Predictions For UH Football

By
.(JavaScript must be enabled to view this email address)
Friday - May 26, 2010
|
Share

Del.icio.us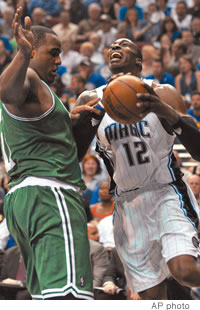 Dwight Howard has not played like Superman against Glenn Davis and Boston
National college football magazines are offering up their pre-season predictions. If they are to be believed, UH is in for a struggle. Nobody has the Warriors higher than fifth, and Sporting News has them eighth behind even lowly New Mexico State. If Hawaii is going to be better than the pundits predict, the offensive line will have to improve on its spring showing. Because without protection, a skilled group of outside receivers and quarterback will be negated. Without blocking, your running backs, a position at which the warriors are deep, will be neutralized. At the risk of sounding like a broken record, those five guys have to come together.
While some national guys think linebacking will be a problem, I don't. They've got playmakers there, and the defense should be able to pull its weight. To say we'll know early on is a bit of an understatement. With the USC game being played on a Thursday in the opening week, every action-starved football fanatic in America will be watching.
* The release of the All-NBA teams coinciding with the playoffs gives rise to some thoughts about Orlando Magic center Dwight Howard. Selected as the first team post player, Howard is widely acclaimed as the best big man on the planet.
As it stands, that may be more of an indictment on the current crop of bigs than it is an elevation of Howard. He is without question a dominant defensive force. As a shot blocker, shot changer and defensive rebounder, Howard is fabulous, in the same class as Bill Russell - which is to say, as good as it gets. Offensively, however, he is quite average. He has no post moves to speak of, a below-average mid-range game and is a poor free-throw shooter. More alarming is that there's been no significant improvement in the last three years.
At 24, Howard still has time to reach his spectacular potential, but it takes a special individual to put aside all the acclaim and adulation, and force yourself into the gym to spend countless hours on very basic skills work.
You could make the case that all the "Superman" talk and all the money having come so early has been a hindrance to Howard's development. Some players, the truly great ones like Michael Jordan, Larry Bird, Magic Johnson and Kobe Bryant, were able to put the trappings aside and do the work that made them improve.
The jury is still out on Howard, but there's not a single coach in the NBA who would say, "Twelve seconds left and we need a basket. No problem, just throw it down to Dwight and we're all good." Until he's that kind of go-to player, he'll never be one of the great post players in NBA history.
* I suppose it's a sign of the times that the Florida Marlins' best and most highly paid player, shortstop Hanley Ramirez, is pulled from a game for loafing after a booted ball, then blames manager Fredi Gonzalez ("he never played in the big leagues") and refuses to apologize to his teammates.
Think you'd ever witness that kind of behavior from Derek Jeter? He finally did apologize and has been restored to the starting lineup.
Most Recent Comment(s):