Wednesday - November 24, 2010
By
.(JavaScript must be enabled to view this email address)

Movies Showtimes
Share

Grace Lee
Anchor, Hawaii News Now,
'Sunrise' Morning
Where and with whom did you see the movie?
I saw the movie at Ward Theaters with my friend Lance Rae, my executive producer at HNN, Anna Gomes, and our floor director Byron Surukawa.
Overall, what did you think?
It was entertaining, it was cute. I love Rachel McAdams as an actress, and I love Diane Keaton and Harrison Ford, so that made it really easy to watch. I thought it was fun.
Was the message or theme of the movie clear?
Yes, it was clear. The way that they started off with her life and what her life is like, such as having a date in the middle of the afternoon, which is so funny to us because as anchors we have the worst schedules ever. What ultimately wins out is the chemistry between the team in front of the camera and behind it, and I think that is true with any morning news show.
From a news anchor's perspective, do you think the movie was accurate?
I think there are certain things that were accurate, but of course there are things that were totally inaccurate. The fact that they could get a live shot up so easily is just untrue. It doesn't happen that way. You can't just go live all the time. The fact that she (McAdams) is so young and has this national network job probably is not that realistic, but totally fun.
Without giving away the ending, what was one of your favorite scenes?
When Rachel McAdams is forced to raise the ratings of the show and she is figuring out how to do that. There is a whole series of things she makes her anchors do that is pretty hilarious.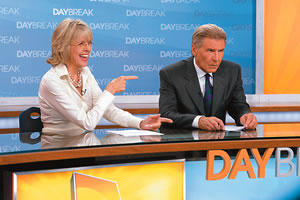 What did you think about the acting? Did anyone stand out?
There is something very real and likeable about Rachel McAdams to me, and of course she is beautiful and fun. Her character is very quirky, even though she is difficult and overly obsessed with her job and the news, and cannot stop watching to the point where it is like a romantic relationship.
Did you identify with any of the characters?
Since most the anchors were played as such divas, I couldn't really identify, but the one thing that is real is that making news is like making sausage: It is not glamorous at all, most of the time. In reality there is all kinds of craziness going on and all kinds of things that are messed up. I kind of related to Rachel McAdams part because she is younger, hungry and really driven to do whatever it takes to make it work.
What's your favorite movie snack?
For me honestly, I love popcorn, like really sweet, salty buttery popcorn. Every time I go I say I am not going to get any and I wind up with an extra large.
On a different note, what is new with you? One of the things viewers tell me is that they love the show because we make them laugh. We have fun in the morning and they can also get their news. To me, that is a big honor and responsibility.
Most Recent Comment(s):