Wednesday - August 06, 2008

Movies Showtimes
Share

DJ Nocturna
DJ Nocturna, radio DJ and promoter
Where and with whom did you see the movie?
I saw it at Dole. I saw it with two friends, Vicky DeMercer and Eric Cordeiro.
Overall, what did you think?
I thought that the movie was good, entertaining.
What about the acting? Were David Duchovny and Gillian Anderson still believable as Mulder and Scully?
I think what makes it believable is, if you're a fan, you still like them no matter what. If you're not familiar with X-Files, you might not be too convinced. You might think that something was missing. If you watch, you know, you've gotta be kind of familiar. Scully, who's always the skeptic looking to science to answer all her questions. Father Joe (Bill Connolly) says (to her) "don't give up." He's a priest, but he has psychic visions.They look older; I think it's been like six years. Scully looks more refined, longer hair. I think she was a lot paler before. He (Mulder) looks, like, haggard; he's got a beard. But Mulder and Scully are still the same, like two opposites. That's the dynamic of the movie - they're opposites, but they complement each other.
Did any old X-Files favorites make an appearance in the movie or were there some new characters?
There were a lot of new characters. It's different. The FBI lady that came (Amanda Peet), a priest. I thought he was an interesting character who gave a dark edge to it.
With this being the latest or the final chapter of The X-Files, how satisfied were you with the story? Did it finalize everything you felt that it should?
I almost think the story has always another beginning. I think they can make another story out of this. It doesn't seem like it should end.
On a scale of one to four stars, what would you rate this movie?
I would say ★★★. If you're anticipating aliens and monsters, you're not going to see it. The title is I Want To Believe.You kind of question that. Just the script itself, there are certain things they said I can relate to my life. We always have this thing when we have a dying friend or a dying family member. You have to turn to something to give you that faith.
I guess, in the end, we're always left with "don't give up."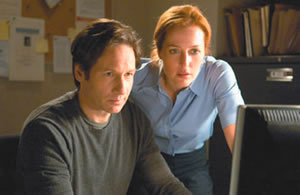 To whom would you recommend this movie?
A lot of people tell me they don't like it because there's no monsters. But if you're a fan of X-Files, you're gonna love it. I would say watch the movie, it's a great film.
Favorite movie snack?
I like popcorn and mochi crunch. Sometimes I have a hot dog, and I have to have a small fruit punch.
What's new?
Wednesday, Acid Wash returns (at Next Door in downtown) with the return of DJ Vegas Mike. It's the first Acid Wash in a month. On Aug. 8, I have a Camera Obscura for the Chinatown Get Down, the venue is not confirmed.
I'm actually going to do a TV show called Camera Obscura, an interview TV show. That's coming up. I'm bringing in a belly dancer, Sabrina Fox. She's the director for the troupe called Atashnaya in San Diego. I think she's having some workshops. She does like Gothic belly dancing, tribal fusion. For Camera Obscura, we're planning a medieval night down the road.
Most Recent Comment(s):