A Big Man For Little Leaguers

By
.(JavaScript must be enabled to view this email address)
Wednesday - June 21, 2006
|
Share

Del.icio.us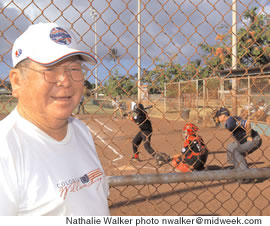 Kawamoto has been involved in Little League for more than 40 years
When the Ewa all-stars won the Little League World Series last summer, one of the happiest guys in Hawaii watched from the opposite side of Oahu, in Kailua. Bob Kawamoto had seen Hawaii's teams get to Regionals and Nationals, but never had they won it all.
"It's really good for the kids," I remember Kawamoto telling me at the time.
But Kawamoto knows that the best thing about Little League Baseball isn't the winning.
"It's about participation and having fun," he says.
Kawamoto should know. He's been around Little League baseball for the better part of the last five decades. And he has no intent of slowing down. At the age of 79, with his 80th birthday coming next January, the former state administrator was recently re-elected as one of Hawaii's district administrators.
"That's at least three more years," he says. "I have the biggest number of leagues in Hawaii, with six."
That list includes one league on Kauai and five in Windward Oahu -Kauai Hau, Kahaluu, Kaneohe American, Kaneohe National, Kainalu and Kailua.
Kailua, he says, has the distinction of being the oldest league in the state - dating back to the beginning of Little League Baseball in the early '50's.
He's seen some great players come and go since then, including former Major League stars Sid Fernandez and Joey Meyer.
"I remember Sid hitting a home run during a district tournament," he says.
As for Meyer, who still has the record for the longest home run in professional minor league history, Kawamoto says "He was always strong. He always hit the ball far."
Fernandez and Meyer played Little League during its hey-day.
"When I first got involved (as a league official and administrator), I think we had over 17,000 participants statewide. Now, due to other baseball programs and other sports, like soccer, our number is about half that -around 9,000 or so."
Kawamoto, who was born and raised in Kailua, joined Kainalu Little League as a coach and then a manager in the early '60s. "I got involved when my oldest son (Vance) got involved," says the retired civil engineer for the City and County of Honolulu.
Over the years, he went on to coach his next two sons, Glenn and Bryan.
"And my daughter Karen was a great scorekeeper," he says.
Those were the days when Little League and other youth sports didn't invite girls to play. When girls joined the boys leagues across the nation during the '70s and '80s, Kawamoto embraced the change. He called it one of the most significant changes in youth sports during his tenure.
"Getting the girls to play was great," he says.
Another important administrative change occurred recently.
"We screen all of our (coaches and volunteers) through background checks," he says. "It makes everything safer."
The other big difference of the past several decades is mandatory participation-even during tournament time.
"Many years ago, some of the kids didn't get to play," he says. "I like the mandatory play rule. Every player is required to play in the field at least two innings (in every game), and bat at least once. (And) in all-star competition, all players are required to play in the field for at least three outs."
That change has made parents a whole lot happier.
"There used to be more yelling," he recalls. "It's not that way anymore. The parents are real good; the coaches are real good. I go out there to enjoy myself. It's always a very positive experience."
Kawamoto's favorite spot to enjoy the games is a place out of the hot sun at Aikahi Park in Kailua. "I like to sit with the score-keeper because it's shady there," he says. "I guess it's one of the privileges of the job."
Bob Kawamoto deserves that privilege. He's been cheering on "his" kids for the last half century. Little League Baseball in Hawaii is honored to have him around for many more years to come.
Most Recent Comment(s):