A Very Different Kind Of Writing

By
.(JavaScript must be enabled to view this email address)
Wednesday - November 04, 2009
|
Share

Del.icio.us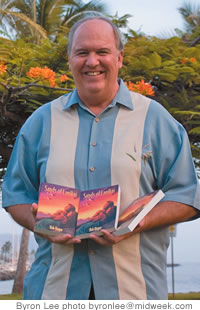 The author with his 'baby,' 'Sands of Lanikai'
Dear MidWeek readers, For those of you who have been reading my Keeping Score column for some or all of the past 21 years, there's something else I'd like to ask you to consider reading: my first book!
Yes, it's true. I've written a novel called Sands of Lanikai, and it's not about sports.
Oh, there are a few sports-related items sprinkled in a backdrop to a fictional story set in Kailua in November/December 1941 - a day at the horse races, for example, at the then-popular Kailua Race Track, or a morning round of golf with friends at the nine-hole Mid-Pacific golf course. And my main character is an ex-college basketball player, so perhaps all of that qualifies as sports-related.
But mostly it's a mystery and romance and suspense novel involving historical personalities and characters I've dreamed up, all set in a time when war was imminent. Those who have spent their lives in the literature business call this historical fiction. I won't quibble with that description. Most all of the action is set in the then-rustic town of Kailua, a place so different than today - with ranch hands and cowboys, and small farms and fruit and vegetable stands, and mom-and-pop grocery stores, and a tavern in the center of town that seemed to attract just about everybody.
It's a place as awesomely gorgeous then as it is today - and that physical beauty, along with the intense feelings that go along with living in such a beautiful place, make quite an impact on my characters.
I admit that I fell in love with these characters while I was writing, and I hope when you pick up a copy of the book at your local bookstore (Borders, Barnes & Noble, Bookends and others) that you'll fall in love with them, too. There's Jorge Luis, the feisty paniolo; Healani, his beautiful half-sister; Paul Sands, the down-on-his-luck newcomer faced with a sudden tragedy; Officer Jack Burns, the Honolulu-based cop who lives in Kailua; Kenji Fujimoto, the observant Lanikai yardman, and many more.
There's also a spy - or two. You have to read it to find out. That's the fun of it.
And it was a fun experience - and a very challenging one, too. From the moment I thought up the idea - while sitting on Kailua Beach looking out at breathtaking Kailua Bay - until the final edits were made and the last proofing was OK'd, it took more than four years.
Along the way, the book took several forms. I wrote it all in first-person, like a journal, the first time. Then it sat around my house collecting dust for more than a year until I got up the gumption to send it to some publishing houses.
That's when Dale Madden of Island Heritage got involved. Madden, who happens to live in Windward Oahu himself, saw an old photo of pre-World War II Lanikai that I had placed on the cover of my original manuscript and recognized the area where his home was located. That intrigued him enough to open the book and read the first several chapters of my fledgling novel.
When he called me to tell me he wanted to publish it - with the caveat that there was still a lot of work to be done on it (a whole lot!) - I was simply overjoyed.
From there, it took several rewrites, the invention of new characters, tying up plot lines, three or four editors, and a few bleary-eyed nights when I read or proofed my copy long after I had completed my regular job responsibilities as PacWest commissioner.
Four years later - with the help and support of Lynne Madden and Stacey Suyama of Island Heritage (who weaved me through the business process and the cover design process and the distribution process and much more)- it has come to this week.
My novel is on the local bookshelves. Honestly, with all that it has taken to get to this point, it feels like I've given birth.
So, if you're a faithful reader or even if you're a casual one, but you enjoy a book you can curl up with or take along to the beach, consider Sands of Lanikai.
It's my new baby. And this is one proud papa who will thank you all the way to the end of the final page.
Book signings: Borders Ward Center, Saturday, Nov. 14, 10 a.m.-
Iolani Book Fair at Barnes & Noble, Saturday, Nov. 21, 11 a.m.-1 p.m.
Borders Waikele, Saturday, Nov. 21, 2 p.m.
Borders Windward Mall, Saturday, Dec. 5, 2 p.m.
Most Recent Comment(s):