Dis And Data On Hawaii Sports

By
.(JavaScript must be enabled to view this email address)
Wednesday - October 26, 2005
|
Share

Del.icio.us
A little bit about a lot of things (or hallowed thoughts on the eve of Halloween):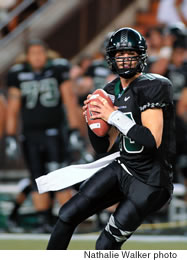 Colt Brennan could surpass Timmy
Chang's records at UH
* The more I see of Colt Brennan, the more impressed I am. The University of Hawaii sophomore has all the tools to become the greatest quarterback in school history - awesome accuracy, outstanding velocity, excellent awareness, escapability, and the one quality that separates him from the rest. That quality - panache. If you don't know what it means, look it up. But Colt's got it.
* Early pick for OIA football high school Coach of the Year: Castle's Nelson Maeda. Just how does he do it year after year with small numbers and small athletes? The answer in one word- preparation. His Castle teams are prepared for every situation, and Maeda is a genius at making adjustments during the game. Who knows whether the Black Knights can keep up their magic throughout the playoffs, but hats off to the job Maeda and his staff did during the regular season.
* Is it just me, or does anyone else have a good feeling about the future of this year's Wahine volleyball team? Last year, almost the same bunch of girls over-achieved all season long before finally dropping their first match in the NCAA regional semifinals in Wisconsin. Nobody thought they could get that far at the beginning of the season. This year, Dave Shoji's team is underachieving. They struggled badly in the early part of their schedule and they couldn't come up with the big hits or the big rallies against quality opponents. I just have this feeling that they will continue to improve and peak at just the right time this year. I hope I'm right. I'm sure Coach Dave hopes I'm right, too.
* Speaking of national championship caliber women's volleyball teams, Tita Ahuna's HPU SeaWarriors are making quite a challenge for this year's NCAA Division II title. This year's squad of veterans is led by Barbara Martin and Vera Oliveira. I'll be handling the play-by-play duties of three upcoming HPU matches on OC-16 - at 7 p.m. on Nov. 1, 2 and 8 on Oceanic Cable.
* I feel very badly for Michelle Wie. The alleged infraction that caused her to be disqualified in her professional debut seemed pretty manini to me. I'll admit I'm not an avid golfer, but I don't understand how she gained any supposed advantage from her infamous drop. If the drop was bad enough to cause disqualification, how come nobody picked up on it immediately?
* Then there's the question about journalistic ethics. Sports Illustrated
's Michael Bamberger, a veteran sportswriter, reported her alleged gaffe the day after it happened.
I thought sportswriters were supposed to cover an event, not get involved in it. Bamberger reports that he spoke with Michelle after round three, but slept on it, and decided he didn't like her explanation. Why did he wait a day? Has he historically reported inaccurate drops in previous tournaments? Is he really a protector of the integrity of the game, as he professes, or was he trying to create a sensational story? Oh, the ethical questions could go on and on. And there are no simple answers.
* If there's a silver lining in this entire Michelle Wie episode, it's how the Punahou 16-year-old handled herself. With class, dignity and respect. As a bottom line to the story, that probably says it all. She'll be back.
* Finally, I've received a lot of e-mail ever since my e-mail address started appearing at the end of these columns. Thanks so much for your kind comments regarding recent stories I've written about the Kailua Race Track, Doc Lau of St. Louis, Miah Ostrowski of Punahou, Michelle Wie, Big BoyZ football, and other columns. Some of you have also suggested future column ideas and I truly appreciate that. So, keep those e-mails coming. Don't be scared to write, even if it is almost Halloween.
* Happy Halloween, everybody.
.(JavaScript must be enabled to view this email address)
Most Recent Comment(s):