It's Time To Get A Rainbow 'H' On

By
.(JavaScript must be enabled to view this email address)
Wednesday - July 04, 2007
|
Share

Del.icio.us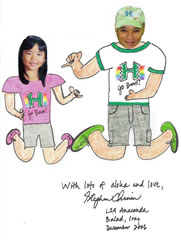 Sgt. Stephen Chinen and his
daughter Nikki
Americans spend the Fourth of July at barbecues, at the beach, watching parades and fireworks. It's a great holiday as we cherish our freedom and our independence.
It's also time to say "thank you" to the men and women in uniform who serve our great nation. For more than 200 years, they've protected our freedoms, both at home and around the globe. We can't thank them enough.
But what do those soldiers think about when they're not on duty? How to they beat the incredible stress of being deployed to a war zone?
Well, as I learned in a recent e-mail, Sgt. First Class Stephen Chinen of the 657th Area Support Group out of Fort Shafter thinks about "Rainbows."
"We're deployed north of Baghdad. We've been here for 10 months," he writes. "Following UH sports this past year has greatly helped us to get through this deployment. We've been able to proudly brag to soldiers from other units and other states that Hawaii football takes a back seat to no one!"
Even though Chinen and his comrades in arms are true warriors, he doesn't think of Hawaii that way.
"With the exception of football and men's volleyball, all the UH sports teams are still officially known as either 'Rainbow Wahine,' 'Rainbow Warriors' or 'Rainbows.' Why, then, aren't we able to enjoy wearing Rainbow clothing when we cheer our beloved teams?"
Sgt. Chinen poses an interesting question - a question I asked of UH associate athletic director John McNamara, who heads the university's marketing efforts.
"All university logos are managed by the UH licensing office," McNamara says in a response to my e-mail query. "Since the football program (UH's most visible team locally, regionally and nationally) goes by the nickname 'Warriors,' integration of a rainbow design in the 'H' logo has not gained a lot of support, internally or externally. However, since these things continually evolve and change, Stephen's idea is something that hopefully will be given some strong consideration in future discussions."
McNamara says that Sgt.
Chinen has frequently corresponded with the university hierarchy on this issue.
"Following a recent letter from Stephen, we sent him a Colt Brennan football jersey to wear proudly as a symbol of his UH pride. He's a great guy and I've enjoyed my interaction with him," McNamara says.
Sgt. Chinen continues to be a true warrior about his one-man crusade for incorporating a rainbow-design into the current logo.
"This is not a knock against the 'H' logo. I like the 'H' very much," Chinen says. "But what about also having a 'Rainbow H' logo as well? Why not have both? When I (return home and) attend Rainbow Wahine volleyball, basketball, soccer and softball, and when I go to see Rainbow baseball, I want to cheer 'Go Bows!' while wearing a 'Rainbow H' shirt. I believe there are thousands of Rainbow fans who feel the same way."
Sgt. Chinen is unrelenting in his marketing efforts. He's even written the athletic director and chancellor.
"Hey, Mr. Frazier and the UH marketing department, can't you see the big boost in sales
'Rainbow H' clothing will bring?" he writes. "Don't you see how this move will reach out to the community and say 'we value your longtime loyalty to our Rainbow team, and we invite you to wear that loyalty around town and when you attend our games'!"
Sgt. Chinen truly believes his idea will translate into increased sales revenue and increased attendance, too. Perhaps on this week that we celebrate our nation's independence, the powers at UH might consider this independent - and creative - idea from one of its nation's many heroes.
Color Sgt. Chinen's idea red, white and blue, and all the other colors of the rainbow.
"We're almost home," he writes. "Hawaii is No Ka Oi."
Most Recent Comment(s):