Mom And Other Good Things In Life

By
.(JavaScript must be enabled to view this email address)
Wednesday - November 23, 2011
|
Share

Del.icio.us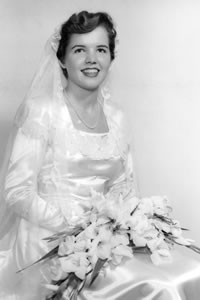 Mom Ale Hogue on her wedding day. Photo from Bob Hogue
This is Thanksgiving week, a time to reflect on the good things in our lives, and hopefully time also to be spent with our families.
The Gonsalves family of Kailua is thankful for the continued success of son Lucas in college at Western Oregon University. Lucas, who was an outstanding high school athlete at Saint Louis, was named this month to the Great Northwest
athletic prowess when he was only 4 years old, when he was the youngest player in the local youth soccer league. He was amazing to watch then so quick and so clever and he is still amazing now. His parents, Kimo and Ann, are very proud of his accomplishments as he continues to work hard nearly 3,000 miles away from home.
Another proud and thankful family is the Bukoski clan. Chance Bukoski, whose grandfather Frank is a championship senior softball player from Kauai, and whose cousins Duke and Deven have been outstanding high school and collegiate athletes in football and volleyball, was recently named Sportsperson of the Month by the Honolulu Quarterback Club.
Bukoski led the HPU SeaWarriors to a share of their first ever PacWest men's soccer title after leading the conference in scoring. The SeaWarrior All-American showed great perseverance as HPU had finished runner-up the previous three seasons, and finally claimed the cochampionship in Bukoski's final collegiate game.
Finally, I also want to give thanks to Mom, Ale Hogue, at this special time of year. You see, Mom turns 80 years old this month. We've often celebrated her birthdays over Thanksgiving weekend, and this year is no different. Mom was born and raised in Manoa and went to school at Punahou, from which she graduated in 1949. She still considers many of her classmates from high school as her best friends in the world.
After she married my dad in Honolulu in 1952 (yes, they celebrate their 60th wedding anniversary next year), she was an elementary schoolteacher in Southern California for many years. Later, she became a stay-at-home mom when my little brother was born, but she never stopped working. In fact, she is probably one of the hardest-working and most efficient people I've ever known.
When I was young, she was the scorekeeper for the local Little League, and she always kept great stats whenever any of our family members played a game. She took up tennis several years ago and has become quite good. In fact, until a recent knee injury slowed her down, she was playing doubles tennis four days a week. She hopes to be back on the court several times a week quite soon and is walking a few miles a day to stay in shape. She never slows down.
But what Mom does best is help others. She's an incredible seamstress who has made hundreds of quilts some of them have been displayed at Queen Emma's Summer Palace. Lately, she and her quilting class have been sending quilts to soldiers and their family members who are stationed overseas. The best part is she makes the quilts for love, not money. She wouldn't have it any other way.
I'm proud to be her son and to wish her Happy Birthday and Happy Thanksgiving at the same time thanks, Mom, for being the best!
Most Recent Comment(s):