Needed: One Bionic Leg Prosthesis

By
.(JavaScript must be enabled to view this email address)
Wednesday - February 08, 2006
|
Share

Del.icio.us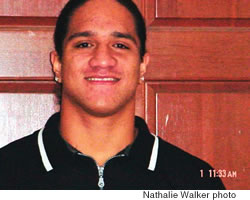 Luna Emelio is a good player, but needs a hand
with a new leg
When Luna Emelio was just 4 years old, growing up in Pearl City, he fell in love with the game of football.
"Whenever anybody asked him what he was going to do, he would tell them 'I'm going to get a college football scholarship,'" his mother Litzi remembers.
"That's all I've ever wanted to do," says Luna.
But when Luna was only 6 years old, he was diagnosed with a very aggressive form of bone cancer called osteosarcoma.
"It was devastating," his mother recalls.
The cancer was so aggressive that little Luna and his family practically lived at Kapiolani Children's Hospital. There, Luna underwent chemotherapy for three months, but his cancer refused to go into remission.
"The doctors said that amputation was the safest way to save him," Litzi says. "They amputated his right leg right at the knee joint."
So the cancer died, but little Luna's dream of playing football didn't. Fitted with a prosthetic leg, Luna strongly believed that he would one day play the game he loved so much.
That chance finally came when the Emelio family moved from Pearl City to Pukalani in upcountry Maui and Luna began attending classes at King Kekaulike High School. He was a very good academic student, but he wanted a chance to get out on the football field.
"Some people said we were crazy to let him play," says King Kekaulike athletic director Kurtis Saiki, "but we're not going to deny him the opportunity. The doctors cleared him to play, and (the area around his prosthetic) was padded."
He was now Big Luna, nearly 6 feet tall and almost 200 pounds. As a sophomore this past season, he started at line-backer for the school's junior varsity football team. "He's got a good heart. He's a good kid, and he loves football," says Saiki.
"I can't do it the way other players do it, but even though I got my leg amputated, I want to play," Luna says. "I just kept pushing myself."
Then the next challenge occurred.
"He's so active, every time he would get a new prosthetic leg, it shattered," his mother says. "It broke almost every game.
He would sit on the sidelines and try to fix it, but most of the time he couldn't go back in."
To add to the frustration, his old prosthetics often caused infection. He's had to miss a great deal of school. But despite his everyday challenges, Luna refuses to give up his dream.
"I know I can play varsity if I get a bionic prosthesis," he says.
A so-called bionic prosthesis is the newest high-tech prosthetic leg.
"You can run or walk at the drop of a dime," Luna says.
And if you've got the talent and the desire, you can also play football.
"He wants to continue at the varsity level. I feel for him," says Saiki.
The problem is cost. Bionic legs aren't covered by insurance. And with a family of eight children, and with both Litzi and her husband, Maliuga, working practically 'round the clock, Luna knows it's not in the family budget.
He needs help.
"We've been told it would cost somewhere between $25,000 and $30,000," his mother says.
"I'm hoping that people in the community will help out," Luna says. "All I want to do is have the chance to play football."
Luna has two more years of high school to have that dream fulfilled. He wrote an e-mail to us at MidWeek to see what we could do. We believe that by telling his story the big-hearted people of Hawaii will help him make his dream come true.
Luna would love to hear directly from you. You can e-mail him at .(JavaScript must be enabled to view this email address)
Help Luna Emelio live his dream.
Most Recent Comment(s):
For all comments click here.