Preparing For 'Something Special'

By
.(JavaScript must be enabled to view this email address)
Wednesday - June 28, 2006
|
Share

Del.icio.us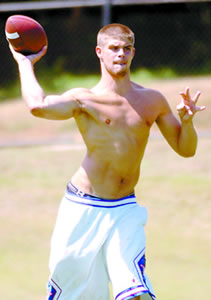 Summer workouts are serious for Brennan
and his UH teammates
The summer afternoons are hot in Manoa, but not even the blistering heat can stop Colt Brennan in his quest for greatness. Working out with some of his University of Hawaii team-mates in the hot and lonely days before UH football camp begins officially on Aug. 3, Brennan's passes find their targets with precise accuracy.
"I try to get out there every day," Hawaii's starting quarterback says. "I want to do something special this year."
Brennan was already something special last season, his first in a Warrior uniform. As a sophomore who transferred to Hawaii at the beginning of last summer, Brennan struggled with the complex offense at first, but then picked it up enough to lead the nation in touchdown passes, passing yards, passing average, total offense, and points responsible for. He had an amazing completion percentage of over 68 percent, placing him in the top 10 in the nation in passing efficiency.
"He came into the offense about as quickly as anyone we've ever had," says Dan Morrison, the UH quarterbacks coach. "But his biggest asset was that while he was learning, he had the talent and skills to make plays. He's got that great mental toughness and edge."
Morrison and the other Warrior coaches aren't a part of the summer workouts. By NCCA rules, they can' be. So, they'll have to wait to see the pre-season choice for the WAC Offensive Player of the Year when camp officially opens.
But Morrison does know what Brennan brings to the table.
"A few players can will the rest of the players with them," Morrison says. "It starts with a belief system, and he's got it."
After a 5-win, 7-loss rebuilding season last year (that was better than most expected), Brennan truly believes that the Warriors will achieve greatness this season.
"I don't want us just settling for 8 and 5 and a bowl game. That's nice, but I want us to go for it all," he says with confidence. "There's no reason we can't win every game. If we shoot for the best season ever, it would bring down the house. We don't want to strive for mediocrity; we want to be the best."
Pundits around the country may not agree with Brennan's pursuit of win-loss perfection, but they are impressed with his talents. The 6-foot-3-inch quarterback from Southern California is on the watch list for the Maxwell Award, the trophy that goes to the nation's most outstanding player.
"We've gotten some notoriety, but it's not enough," he says. "Most (prognosticators) are picking us in the middle of the WAC. We're not getting the respect we deserve. That makes us mad as a team."
Brennan is using that pent-up anger to focus his teammates during summer workouts.
"Everybody is working hard," he says.
He rattles off the names of several players, including Davone Bess, Ryan GriceMullin, Jason Ferguson, Ian Sample, Leonard Peters and Samson Satele. "And in the weight room, you should see Dane Uperesa. He's huge. That's good for me when the offensive lineman look like that. It's scary to think of the guys going up against them."
Brennan knows it's also scary that the Warriors open this season on the road at powerful Alabama on Sept. 2.
"No matter how hard we work, the night before the game, I know there will be some anxiety," he says. "But you can't let that nervousness get to you. If we can go out and play some football, keep it simple and keep it focused, we won't even realize we're playing Alabama in front of 92,000 people. We have a chance to step it up and be great."
Greatness could truly be Brennan's next step. With every precisely thrown pass, that's what he focuses on every hot afternoon in Manoa this summer.
"We're ready to battle the travel and the not getting the respect," he says. "When you overcome those odds, why not try to be great?"
Colt Brennan won't settle for anything less. Believe it. Colt does.
Most Recent Comment(s):