The Target On Dan Hale's Back

By
.(JavaScript must be enabled to view this email address)
Wednesday - December 27, 2006
|
Share

Del.icio.us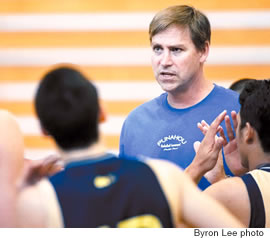 Dan Hale: no pressure in return to Punahou
It's hard to miss Dan Hale. For one thing, he's 6-feet-6-inches tall. For another, he's the varsity basketball coach walking around with a target on his back.
The target says: "I coach at Punahou - we're supposed to win the state championship this year."
He laughs when I tell him this. "Everybody says that," he replies. "But until somebody takes down Iolani, nothing else matters."
Despite the pressure of the ILH basketball race that starts next week, including the high expectations and the No. 1 ranking in the state and the best players around - seniors Spencer McLachlin and Miah Ostrowski - and the fact that this is his first year of head coaching at Punahou, you wouldn't know Hale was concerned about anything by just looking at him. He's that laid back.
"I keep telling the boys whatever we do is whatever we do," he says.
An unusual reply from a basketball coach at a school that fired its last coach after its team lost only five games all of last year.
"I understand the situation," Hale says.
How true that is. Hale grew up in the Punahou environment. He went to school in Manoa back when Punahou expected a title every year. And Hale and his teammates delivered, winning three straight state titles from 1979 until 1981.
(U.S. Sen. Barack Obama was on one those teams, by the way. Hale says "Barry," as Barack was known then, was a "good guy, a gym rat, with a double clutch shot and a charismatic nature." )Understanding the Punahou environment is the first key to the job that Hale took on after last season. "It helps a lot being a part of this world," he says.
At age 44, Hale had been the head coach at Moanalua for the last three seasons. Prior to that, he had lived a life that involved basketball and a whole lot more.
After graduating from Punahou, he was recruited by then-assistant coach Riley Wallace to play at the University of Hawaii. UH was coached by Larry Little back then and wasn't very good. Hale transferred to Chaminade by the time his senior season rolled around.
"We had a great team at Chaminade," Hale says. "Merv Lopes was the coach (and the team had beaten Virginia in the previous year). In my senior season, we beat 15th-ranked Louisville and second-ranked SMU in back-to-back games. To me, that's a bigger deal than almost anything else."
After college, Hale headed to Los Angeles. Besides playing basketball, he was a world-class water polo player and played on a number of international teams. He was also a wannabe actor.
"I was in Baywatch and I did a lot of commercials," he says. He also starred in a forgettable series called Hard Time on Planet Earth.
Ironically, it was another actor's hard time that sent him back to Hawaii. "A friend of mine was shot to death while walking home from a play," he remembers. "I knew I couldn't raise a family there."
So in the mid-'90s, Hale returned to Hawaii to get into teaching and coaching. The acting part stayed with him, too.
"I headed the drama department at Moanalua High," he says.
He also eventually coached the Menehune basketball team and began raising a family in Kailua. He and his wife Chaika have four children, three girls and a boy, ranging from age 3 to 12.
Then, when the Punahou basketball job suddenly came open last spring, "the timing was just right," he says. "I really didn't think I had a good shot, but everything just fell into place."
Now, he's walking around with the No. 1 ranking and the target that won't go way. Dan Hale says he wouldn't have it any other way.
"It's been very nice," he says. Pressure? What pressure?
Most Recent Comment(s):